Cedarburg Police Sgt. John Stroik told FOX6 News the driver of a white pickup truck was arrested at the scene. Video shot by the witness shows a man being placed into handcuffs.

"He was pretty irate. He was screaming," the witness said.

The witness told FOX6 News the man believed to be the driver of the truck was yelling that he had a medical condition. He can be heard yelling "I'm diabetic" in the witness' video.

"Seemed kind of delirious," the witness said.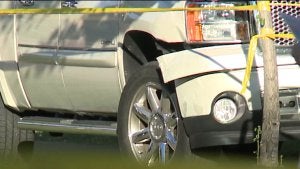 I heard about it after I got home from the festival. It was hot, overcrowded, and no place for someone with a medical condition to be driving around all that foot traffic.... especially if they had just been walking around down there, alcohol imbibed or not.
UPDATE:
It was drugs. Of COURSE it was drugs.
A driver taken into custody after a crash that injured two people near Cedarburg's Strawberry Festival on Sunday is suspected of driving under the influence of drugs and possessing drugs with intent to sell, Cedarburg police said.

The driver, 37-year-old Milwaukee resident Kunle Famakinwa, was arrested at the scene and is expected to be charged with having an unspecified amount of marijuana on him. He also faces potential charges of resisting arrest and reckless endangerment, police said.

The victims are a mother and daughter, ages 65 and 38, police said Monday. Their injuries are serious, but they are expected to survive.

A witness told WITI-TV the driver of a white pickup truck involved in the crash about 5:15 p.m. Sunday was yelling that he had a medical condition. He was heard yelling "I'm diabetic" in the witness' video.

Police told the TV station the truck crashed with another vehicle before hitting the pedestrians. The cause of the crash remains unclear.

"He was pretty irate. He was screaming," the witness, who asked to remain unnamed, told the TV station. He added that the victims seemed in "bad shape" after the crash. "The one woman was screaming. The other woman wasn't even moving."