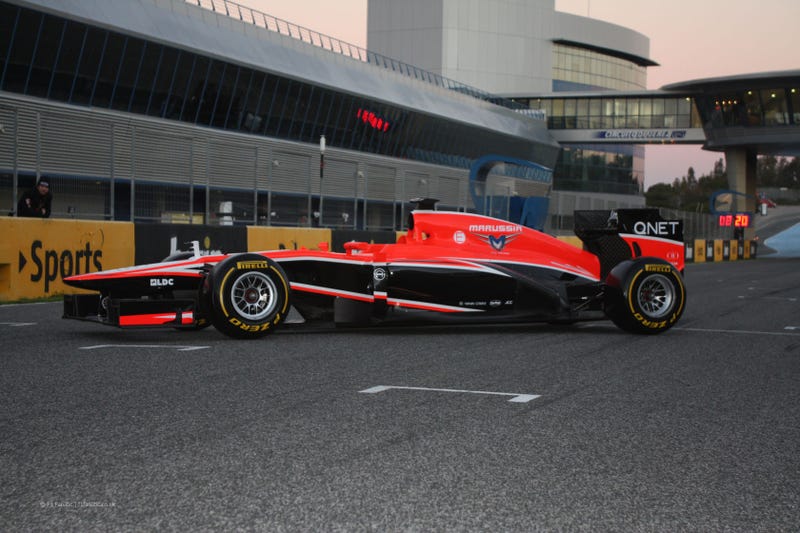 How far gone are we from the days when talent was the best way to get into F1? So far that when GP2 driver and F1 hopeful Luiz Razia was fired from Marussia F1 yesterday, there was no question of how often he damaged the car in testing, how fast he was or how good he was at conserving tires. Instead, it was entirely due to a bounced check from his backers.
When things started in 2010, everything was looking good for the team then known as Virgin Racing. They had two professional drivers with great backgrounds, former Toyota star Timo Glock and Renault's test driver Lucas Di Grassi. Their sponsor, Richard Branson's Virgin group, had only been in F1 once before, and the team they backed (the microscopic but brilliant Brawn organization) went on to win a world championship just a year prior. However, just as with their fellow "expansion" teams HRT and Caterham, reality soon caught up to them and they realized how truly unprepared for F1 they were.
In that first season, none of the expansion teams scored even a single point. Marussia determined their problems to be budget related, and to aid funding they fired Di Grassi (who went on to become an Audi factory driver and a tire tester for Pirelli) and replaced him with the team's reserve driver, the paying Jerome D'Ambrosio. After a poor 2011 for both D'Ambrosio and Glock, the paying seat was instead given to Charles Pic for 2012. For both of these seasons, the focus was simply to run for points with Glock and get funding from D'Ambrosio or Pic. The primary goal was again not met, as all three expansion teams once again went without points in both 2011 and 2012.
Now known as Marussia, the program realized about one month into 2013 that it was not going to be able to survive on the budget of just one paying driver any more. Their main driver of the past three years, Timo Glock, saw his contract terminated in a "mutual agreement", and as he went to the DTM for BMW, Max Chilton was placed in his car. Months earlier, Charles Pic had left Marussia for rival Caterham. For months, the team was openly courting a paying driver, and it seemed that anyone who could bring five million euros could do. Many GP2 drivers were in contention, but the team eventually decided on presumed highest bidder Luiz Razia.
Now, Razia's resume is not unimpressive on paper. Even with the heavy dilution of the series, four GP2 wins in 2012 is still quite an accomplishment. However, it's clear to all involved that his resume wasn't the deciding factor in his Formula 1 jump (he'd never finished higher than 11th in the championship in his three seasons before 2012, and even in the "what have you done for me lately?" world of F1, no team would look at a driver with so little success early in his GP2 career all that seriously). His rumored 7 million euros of funding was clearly the key.
When the first preseason test came, he and Chilton shared the team's new-for-2012 (and gorgeous, might I add) MR02. Neither did exceptionally well (Chilton crashed the car within the first hour of testing, after all), and some insiders were already questioning the team's weak lineup. In the second preseason test, Razia didn't even show up (though most didn't think much of it, as it's common for a driver to only run two of the three tests). When the third test began yesterday, Razia was again absent, but this time it was a concern. Rumors soon began circulating that his sponsors hadn't delivered on the promises made in his contract, and soon it became truth. Late last night, Razia's contract was terminated. Marussia needed a new paying driver, and fast. That's where the far more legendary Ferrari F1 program entered the equation.
Ferrari has spent the last few years struggling with driver Felipe Massa's performance. Since coming back from a bad accident in 2009, he's not nearly lived up to the promises he'd made with his impressive driving before the accident. He's only really contended to win one race since his return (the 2010 Grand Prix of Germany), and his hopes to win that event were dashed when Ferrari forced him to give up the lead to his team mate Fernando Alonso. Thus, rumors have been circulating of his coming firing since early 2011. The program's not known for having a powerful driver development program (they usually allow drivers to be successful with other teams then poach them), but as they realized that few successful drivers wanted to sit as a clear second to Alonso, they soon realized they needed to step up their development program significantly. Enter Jules Bianchi.
Faced with a driver that's been a clear lame duck for almost three years now and no great replacement waiting in the wings (everyone up for the job was either not talented enough to succeed when Alonso's car faltered or too old to become a #1 driver when Alonso retired), the legendary Italian team soon realized that it's relatively weak development program needed to resemble the powerful Red Bull program. The team had kept France's Jules Bianchi in development classes for years, but he had never really been involved in F1. That changed in 2012, as Ferrari helped him get a reserve role at Force India to get him experience driving a Formula 1 car. In 2013, it was assumed that he would move to the second seat at the team for a season before finally making his move to Ferrari, but after a lengthy courting, the Force India team chose former driver (and one time Chinese bar fighter) Adrian Sutil. It was assumed that this would leave Bianchi out of a full time ride in 2013, but when Razia's Marussia contract was torn up last night, Ferrari and Bianchi saw their opportunity and pounced.
Presumably offering both money from a sure source (though significantly less than the rumored 7 million euros of funding for Luiz Razia) and technical assistance from Formula 1's oldest and most successful team, Marussia pounced on the opportunity to employ Bianchi. The young Frenchman now has the opportunity of a lifetime to audition for a good F1 seat by spending a year in a bad F1 seat. If he does well and Massa does poorly, we may very well see him in the legendary red colors of Ferrari even before the season is out.
From the outside, this looks to be an outstanding and mutually beneficial relationship for both teams. Marussia gets to have their cake and eat it too, getting both a talented up-and-coming open wheel star and a paying driver at the same time, while Ferrari gets to train their driver in the real world of Formula 1 while still keeping him in a car so slow that it will never really compete internally with the main program. We won't have much of an idea of how fast Bianchi is in the car until he tests for the first time tomorrow and we won't truly know until race day in Australia, but this looks to be a huge success for both teams, especially as Marussia's sole remaining rival Caterham (as the third expansion team, HRT, has gone out of business over the offseason) goes to the same two paying driver formula that the Marussia program had originally planned to use. The goal may be no bigger than simply scoring a point, but for the first time since the very inception of the program in 2010, the worst team left in Formula 1 looks to have a shot at doing just that.