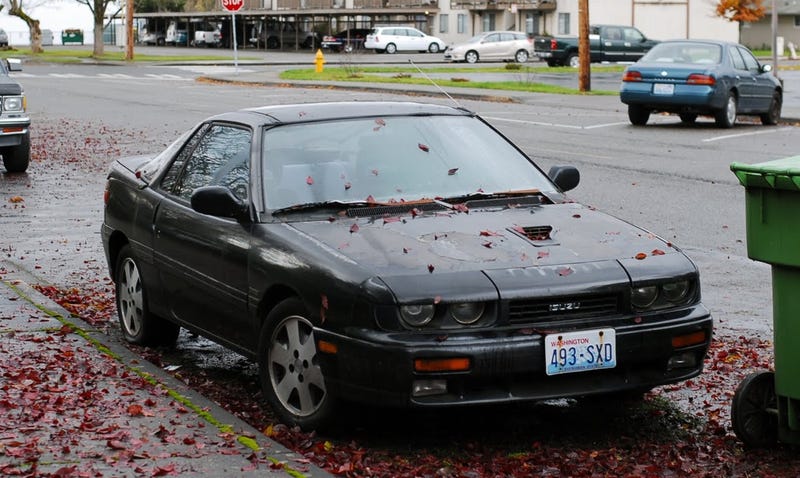 Small lightweight cars with FWD, AWD, RWD and turbo flavors with styling penned by renowned designer Giorgetto Giugiaro and handing tuned by Lotus. Wake up America, Isuzu cars died and we have its blood on our hands.
This wedge sliced design first saw the world in 1979, fast tracked for production in 1980. It looks damn good for a car hailing from 1979. It was called the Impulse in the U.S. and the Piazza everywhere else. It was RWD and Isuzu even went out of its way to give the U.S. a bigger 2.3L 4 banger standard over the 2.0L everyone else got. Sure it only had 110 hp with 127 lb ft of torque, but there's a solution to that...stick a turbo in it. The 4CZ1 had a 2.0L turbo cranking out 148 hp and 166 lb ft in its final form.
Lotus rolled up its sleeves with a shotgun at their backs. The corporate mega-giant GM owned Isuzu and Lotus (by takeover, forcing a buyout of Toyota's remaining shares in Lotus) and at this point in 1988, put Lotus to work tuning the cars Isuzu made.
The original Impulse lived a healthy life of 10 years..which is like a million car years, not accounting for wind direction. Time for a successor to take the mantle...A smaller FWD/AWD combo hitter.
The car had slick European styling, weighed 2411 lbs in base form or 2732 lbs in RS AWD variety. RWD went away courtesy of GM telling Isuzu to make the car using their R-body "world" platforms. Isuzu hailed to their American overlords and made it happen. The original FWD base was whored out simultaneously as a GEO in the same U.S. market for no apparent reason.
Isuzu said, "Screw it, I'm making meth" and rolled out the AWD RS. This welterweight had McPherson struts on all fours, with a rigid trailing arm front suspension and a multi-link rear. The Turbo 4XE1 made a hearty 160 hp/ 150 lb ft and only existed for a single year in 1991. Zero to sixty was a respectable 7.0 seconds and only 800 were produced.
Want a wagon trim? Isuzu's got you bro with their wagon back trim. I'd daily drive the living hell out of that!
GM's pillaging lust was insatiable at this point. They took the Isuzu engine and crammed it in its attempt to revive the Lotus Elan, with the Elan M100.
Isuzu was eventually asphyxiated by GM. GM has been calling the shots at Isuzu since 1985, never allowing it to realize its full potential as GM didn't want Isuzu cars to compete against their own line of compacts in the U.S. Ironically, Isuzu was the first car manufacturer of Japan and in 1993, Isuzu withdrew from the U.S. car market, as with any hopes of making cars ever again.
Isuzu was still being pilfered after death with their transmissions being used in Chevrolet Cavaliers, Berettas, Corsicas, and Sunfires. Isuzu eventually exclusively made SUVs and trucks at GM's command. By make trucks, I mean rebadge a GM Colorado, S10, and a GMC envoy.
Pretty sure that's an S-10 bro.
It wasn't until 2002 that Isuzu started fighting back to regain what's left of their company, by reducing GM's 49% stake to a mere 12% as they fight tooth and nail to buy out GM's shares.
2009 saw Isuzu completely pulling out of the U.S, trucks and all.
GM was in talks to continue their partnership for another 5 years, but they failed. Can you really blame Isuzu?
photo credits go to their respective owners