Hey guys. It's the bigbossyboss here. I know the end of month came and went without a west african adventure. I shall now remedy that! In case you hadn't been following along west african adventures are my travel logs from when I lived in west africa in 2007-2008.
You can find them here:
http://oppositelock.jalopnik.com/tag/west-afric…
Today's adventure is about hosting the 2008 african cup of nations tournament.
As some of you may have been aware Ghana hosted the Africa Cup of Nations soccer tournament for 2008.
The cup consisted of 16 teams competing in groups of 4 in 4 different venues around the country.The venues were: Accra, Sekondi, Kumasi and Tamale.Ghana had been ramping up to host the event for several years including building new stadiums in Tamale and Sekondi, and completing new roads inside the capital city to ease Accra's endless and hopeless traffic congestion.
The cup started on Jan 20th with the opening match between Ghana and Guinea.Getting tickets for the match involved around 30 hours of waiting spread over 2 days, but I managed to come up with some.They cost $20 each, which is a bargain compared to a NHL game.
Going to the opening match was a ridiculous experience.Firstly, once you actually get to the stadium (after battling 2 hours of traffic) the place is totally crazy.On all the streets surrounding the stadium drinking spots blast music, while fans drink up beer, akpeteshie (an extremely strong Ghanaian liquor maybe 70-85% alcohol depending on the batch) and gin bitters.The reason for this is that they don't sell alcohol inside the stadium (which considering how crazy things are is probably a good thing) so everyone gets buzzed before the game. (I know this is not the best picture....but it's Ghana's favorite drink: Star beer!)
Inside the stadium on the opening match there was the opening ceremony with lots of pomp and ceremony and Ghanaian traditional dancing etc.I didn't bring my camera because while pickpocketing is always a danger in crowds in Ghana, in the stadium it's rife. These pictures were my buddy Dan's.
Here is the opening ceremony!
If your going to be pickpocketed anywhere, it will be inside the stadium.Also inside the stadium underneath where I was sitting in the cheap seats, former Ghanaian president Jerry John Rawlings came around. I won't get into the history, but Jerry is a former Ghanaian dictator whom came to power in 1979. He is thought to have ordered the execution of several former leaders on a beach in 1979. (Jerry John)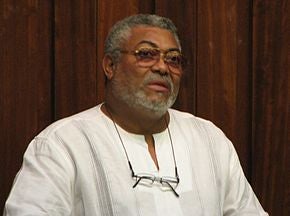 In order to show that he was a man of the people and not some big wig, Jerry sat in the cheap seats.This nearly caused a riot.First Jerry is still very popular and plenty of Ghanaians were trying to meet him and shake his hand, secondly other Ghanaians were insisting that Jerry go sit in the presidential area (where Kufour had reserved a seat for him) but Jerry snubbed the President and sat in the zone behind the goal instead.
The fuss went on for a good 20-30 minutes before people finally calmed down.Also inside the stands which is different from Canada is the brass bands which sit in the stands and play the entire time the team is playing.My one buddy once got a seat in directly in front of the bands, he told me it was so loud he couldn't hear anything, and things came to a head when the trombone player emptied his spit valve onto my buddies jeans.My friend was not impressed.
Anyways in the opener Ghana struggled a bit with finishing their plays.They could get the ball deep in the Guinean end all right, but they couldn't translate it into goals.Going into injury time the score was 1-1 but Ghana managed to score with no time left on the clock.The stadium went nuts.When Ghana scores it's really intense anyways,add into the recipe a last minute goal for the win and the result is insanity. (Here are some pics of the stadium)
People poured water on each other and on those in the seats below them, so after the goal and the end of the game which came less than 1 minute later, everyone was soaking wet.In the mad jubilation someone availed themselves to my pocket and made off with my phone.That was rather unfortunate but not entirely unexpected.
Like I said previously, if your going to be pickpocketed it will be at the stadium.After the match we walked through Osu, an area of Accra which is known for its nightlife and such.There was an awesome street party, it was real cool.I went to several other games involving Ghana including Ghana vs Morrocco, Ghana vs Nigeria in the quarter finals and Ghana vs Cameroon in the semi finals which Ghana lost.
The Ghana vs Cameroon game was probably the most classless display of soccer I've ever seen.There were so many fouls, and dives that it really defied belief.
Ghana won all their round robin matches, and won in the quarter finals against Nigeria, their bitter rivals.
Indeed before the game every score and game between Ghana and Nigeria that had ever been played had been documented and listed in the local papers with a game summary for each game.In the game Nigeria was awarded a penalty shot on a soft foul, and scored deflating the stadium.However shortly before half time Ghana scored sending the stadium into jubilation for a good 20 minutes throughout the half time break.Ghana scored in the 2nd half and won 2-1.
In the semi finals Ghana lost against Cameroon, and Ivory Coast who in 5 games previous had allowed only 1 goal lost against Egypt.
Ivory Coasts wheels then fell off its train as Ghana played Ivory Coast in the 3rd place playoff walloping the previously unbeatable Ivorian elephants 4-1.Egypt played Cameroon in the final and won 1-nil.
This set a new record as previously Ghana and Egypt had been tied for the number of Cup wins with 4 each.Now Egypt holds the record with 5 wins total.
Edit: This was before Egypt's most recent wins, they are now at 7 or something.
Anyways, I guess this wasn't too much of an adventure, but what can you say, it was pretty fun.