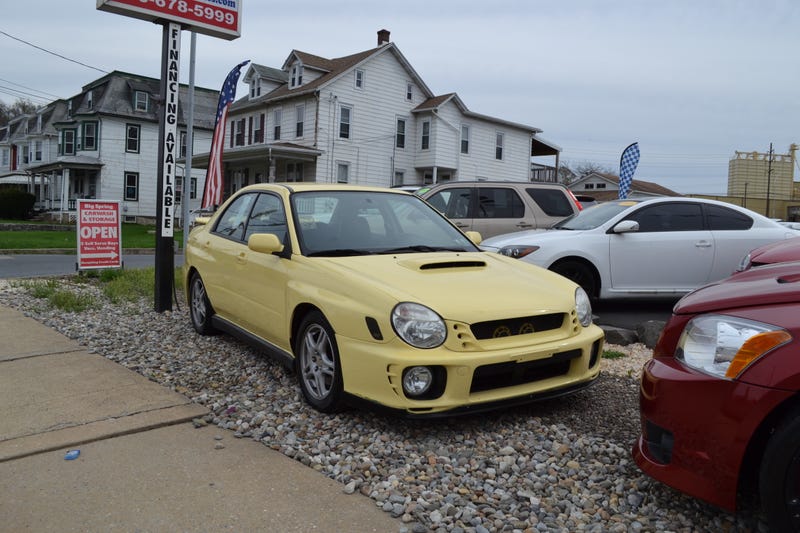 One quiet Sunday afternoon, a little over a year ago, I happened to drive past a used car dealership. Now, I had driven past this dealership many times before. However, this time, something caught my eye: The elusive Blaze Yellow Bugeye. I had to investigate:
The year is 2002. After a long, eight year turbocharged drought, the WRX arrived on US shores with great fanfare. In fact, the WRX was more popular than Subaru could have imagined: over 35,000 units were sold; not exactly rare.

So, what exactly makes this particular 2002 WRX so rare? For the 2002 model year, Subaru produced a limited run of WRX sedans in Blaze Yellow (the color you see above). Known as Cashmere Yellow in Japan, this color was nothing new. In fact, it was somewhat popular on the GC/GF WRX and BD/BG Legacy.

While the 2002 WRX is quite common, the Blaze Yellow version is not. As a limited run color, Subaru produced between 400 and 500 sedans in this color. Blaze Yellow was not available on the wagon.

This example had some modifications. Fairly tasteful compared to your typical GD Impreza, but still not quite to my taste.

Blaze Yellow is one of those colors that you either love or hate. Most people fall into the second camp, but personally, I love it. Blaze Yellow (Cashmere Yellow) may just be one of my favorite colors Subaru has ever offered.

There were other things to see here, too.