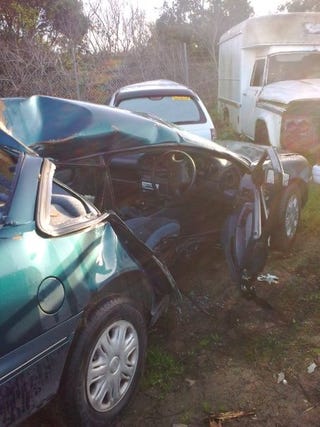 So this happened around 2008. I have a twin brother, his first car was a Commodore. He was traveling on a treacherous road in treacherous conditions, and he lost it sideways into a tree. It could have been worse.
It happened about here on a mountain road we lived at the top of. There's a steep drop on the side he came off, but he got caught in a tree. But that tree came damn close to hitting him, you can see what it did to the side of the car, even the back of his seat was severely damaged. But he wasn't injured.
After that he sensibly got a smaller car, a Mazda, then a Focus. He's just recently gotten back into a Commodore.

Here's how it's supposed to look:
Edit: I've been having a good look at that picture of the wreck. Really scary stuff. Can you imagine coming off the road at night and having to climb out of that thing and look at what you've done? You'd be wondering if you're injured or dying, looking at the car wouldn't inspire you with confidence.