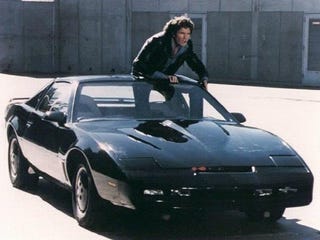 The 80's are fondly remembered for talking cars, car phones and digital gauges, but the decade is not usually seen as a golden age of automobiles. These vehicles would beg to differ: presenting the Ten Best Cars of the 1980's!
Deciding on the Ten Worst Cars of the 1980's was child's play compared to this, since "worst" is easier to define than "best" - best as in fastest? Best in class? Best handling? Best looking? Best reliability, durability, practicality? All of the above!
Note that I have deliberately excluded supercars (sorry Ferrari F40, sorry Porsche 959). These are cars that could – should! - sit in your driveway, not as a poster on your wall or as a picture in your smartphone. Also note that this list comprises vehicles only available in the North American market (sorry Peugot 205 GTI, sorry Lancia Delta), and that cars that debuted at the end of the decade in 1989 are ineligible (sorry Miata, sorry Godzilla).
#10 Volvo 760 Turbo Wagon
Photo Credits: (Above) Wikipedia Commons, (Top) NBC Studios
The Eighties was the high water mark for the family station wagon in North America, but the tide has receded and they've been eaten by monster trucks in subsequent years. Some pockets of resistance remain, however, in Europe, Japan, and on the Internet.
The RWD Volvo 760 Turbo Wagon was not your father's Oldsmobile, however. Like all big wagons, it was designed to take parents and their 2.5 kids to Disneyworld or to hockey practice and had minivan-like cargo capacity. But there the similarities end. The 760 Turbo Wagon was to other full-size wagons of its era as Ragu is to freshly-made Swedish Meatballs. Available with a turbocharged and intercooled inline 4 producing 182 hp, it could haul its 3,000 lb weight to 60 mph in under 8 seconds. Car & Driver, among others, praised the beefy Swede for its excellent handling and acceleration (it has…quite a bit of turbo lag, however).
When people speak of Volvo's reputation for safety, this is the kind of car they're talking about. Not only did it come with standard ABS and airbags, it was equipped with electronic traction control, a common feature today but almost unheard of back in the 80's. And as befits Volvo's flagship, the 760 was loaded with leather, A/C, premium stereo, cruise control, sunroof and power everything. Volvo seats also have a well-earned reputation for comfort. It is, essentially, a GT wagon, and those are getting very hard to find today (because so few people want them, apparently).
#9 BMW E24 635 CSi/M6
Video Credit: TuningLegend
Several of the cars on this list have the qualities of a gran tourismo, which Wikipedia aptly describes as "a performance or luxury automobile capable of high speed or spirited long-distance driving". None do it quite as well as this car, Jalopnik's Best Car for a Summer Roadtrip and my personal favorite, the BMW E24 635 CSi.
Two words best describe this car: land shark. I think this is the most beautiful BMW of the post-war era, and I know I'm not alone. One of Bob Lutz's finest moments was when he insisted on a lower roof line for the car, against the objections of the BMW engineers. But its beauty came with a six-figure price in today's money, making it an 80's status symbol -which is why Molly Ringwald's dad in The Breakfast Club is driving one.
Looks are important in a grand tourer, but so is performance and especially endurance. A proper GT car would not embarrass itself on the track, but it must have something of the legs of a Le Mans racer, and be able to cross entire continents with ease. Present day owners have reported a range of 250 miles (400 km) on a single tank of gas, allowing a traveler to cross the most desolate and deserted stretches of road. Fuel economy is quite reasonable for a 25 year old car, with figures in the high 20's mpg for highway driving. But it's no living room on wheels, like all proper BMW's it won't fall apart in the corners, despite its bulk.
#8 Mercedes R107 SL
Photo Credit: Mercedes Benz
I was was crossing the street the other day when I saw a black Mercedes R107 convertible waiting to turn left at the lights. The top was down, and it was driven by a middle aged gentleman and his wife. Sensing a sudden opportunity – or maybe he was showing off? – he gunned the engine and pulled out sharply. As it roared past me, I had time to note there was quite a bit of body lean at the apex, that its bodywork was flawless, that it was a 380 SL with the V8, and that the gentleman's wife was rather milfy.
There are some who will say this is one of the best looking cars Mercedes ever made. It certainly has the right ingredients for a looker, with its narrow, sleek body, long hood and short rear deck. Mercedes isn't really known for sexy cars, but the R107 may be an exception. It also may be one of the rarest beasts in the automotive kingdom: it's both a "ladies car" (in light colors?) and a proper "guy's car" (in dark colors?) due to its performance, pedigree and rally racing history.
For 21st century summer cruising, the 1985-1989 models are to be preferred due to better engine management and a standard V8. Mercedes offered its customers a choice of V8's to suit any budget: small (3.8L), medium (5.0L) and large (5.6L). Other than its classy looks and GT car performance, as an 80's car that was designed in the 1970's it has less electronic do-dads to go wrong. No Mercedes is cheap to fix, but with an 18 year production run, parts availability is good. Otherwise, Mercs of this era had a reputation for durability, which have allowed them to survive into the present day in good numbers - "every single one was built like a tank" in the words of Oppo davedave111.
#7 Toyota W10 MR2
Photo Credit: Flickr Pool (ELSTRO1988)
A bunch of Toyota cars and trucks are having a party. There's a few that stand out from the crowd – a beautiful and slinky 2000GT lounging by the bar, a Supra flexing his muscles at her, and a Land Cruiser doing backflips on the stairs. But most of the cars are dressed in sober suits of grey or black, and are having very serious conversations with each other about the weather. It's a very boring party.
Until a car comes crashing through the window, landing gracefully on the floor like some ninja in a red gi. It's the Toyota MR2, and it is the Bruce Lee of cars – small, light, powerful and not to be underestimated.
If you look at this car and think, "Aww, how cute! It's like a mini-Ferarri!" you would not be wrong, as the car is a 2-seat, rear mid-engine, RWD format. It's not a prancing horse, it's a prancing pony. Its diminutive size gave it nimble handling, and its 2,350 lb curb weight blessed it with an excellent power-to-weight ratio. In the 1987-88 model years, a supercharged 148 hp inline 4 was available that propelled this mini rocket to 60 mph in 6.5 seconds. Unlike a Ferrari, however, the MR2 was relatively cheap to buy, very fuel efficient for a sports car, and like most 1980's Toyota's they were built to last, very reliable and relatively inexpensive to repair.
For years people begged Toyota in vain to make another small, light sports car. Their wish has only been granted just recently, and you probably have the MR2 in part to thank for it.
#6 Porsche 944 Tubro/S2
Photo Credit: Porsche
At least one car on this list had to have pop-up headlights, and this is it, the Porsche 944. It also scores bonus points because it's a Generation 1 Autobot. But this car was no toy. Based on the earlier 924, it was a Porsche with the engine in the 'right' place: that is to say, in the front, and not hanging over the back axle like the 911. This gave the 944 a nearly perfect 50/50 front/rear weight distribution and so could be taken into a corner without fear of spinning out, which was all too easy to do in the 1980's vintage 911.
Split-folding rear seats and a rear hatch made this a practical Porsche, and it was accessible too: for years it was called, like the 914 and 924 before it, the "poor man's Porsche" but unlike the 914 with its Volkswagen engine or the anemic 924 this wasn't such a bad thing: the 944's lower price, compared to the 911, made it accessible both when new and in the used market.
For today's connoisseur, there are two ways to have your 944: fast and faster. The normally-aspirated S2 model from 1989 produced 208 hp from its large 16-valve 3.0L inline four and could do 0-60 mph in 6 seconds flat and reached a top speed of 150 mph (240 km/h). If that's not enough, the speeding ticket-magnet 944 Turbo S was one of the fastest cars of the 1980's, doing 0-60 mph in 5.5 seconds and running the quarter-mile in 13.9. Its top speed was a still impressive 162 mph (261 km/h).
Sadly, I don't see many 944's in my neck of the woods anymore, which is not entirely surprising (the last one I saw had broken down turning right at an intersection). These cars were meant to be driven in a spirited manner and many have, by now, been driven into the ground (or into a tree) by carless or clueless owners. The few that remain seem to be well-cared for Garage Queens. Its increasing rarity, good looks and still-good performance easily make the 944 a modern classic.
#5 Buick Grand National/GNX
Photo Credit: Gawker.com
If video killed the radio star, emissions regulations almost killed the muscle car. "There's a dead zone in the history of [American] performance cars between the hairy-chested muscle cars of the 1960s and the rebirth of power in the mid-1980's", writes Ben Stewart of Popular Mechanics. The poster child of this rebirth is #4 on our list, the Buick Grand National.
Available from 1982 to 1987, and based on the otherwise forgettable General Motors G-Body Buick Regal coupe, the Grand National, with the exception of its initial production year, was available in any color you liked so long as it was black. But no matter, the car looks properly murderous in this color, and made it stand out amongst other 80's domestic cars like Darth Vader in a My Little Pony movie.
This car saw its apogee in the 1987 model year with the introduction of the GNX, a 300hp turbocharged monster with a gobstopper-swallowing 400 lb-ft of torque. This working-class hero could defeat European royalty: capable of running the quarter-mile in 13.26 seconds and going from 0-60 mph in 4.5 seconds, the GNX was, according to Car & Driver, faster than the Lamborghini Countach, the Porsche 944 Turbo, Porsche 928S, the Ferrari Testarossa and the Ferrari 288 GTO.
At $27,000 (compare to the $100,000+ for the Countach) the GNX had a working-class price too, but as this was also cheaper than the Corvette, this caused some consternation in GM's marketing department – because "Corvette! Pay more for less!" isn't a very good pitch line. So they did what many marketers do in such situations – they lied. The GNX's power ratings were deliberately underrated so as not to poach sales from the Bowtie Beauty.
#4 BMW E30 M3
Photo Credit: 3DTuning
Much like Vincent Van Gough, the BMW E30 M3 was kind of under appreciated in its day, and was not a big seller due to its high price. It is only later that we have come to recognize the genius of the master, and its value has appreciated steadily since then. Today it is probably the Internet's Favorite Car and its flared wheel arches are enough to cause a BMW enthusiast to squeal like a Justin Beiber fan. This 80's rock star is so famous it needs no introduction, but I suppose I should go through the formalities and maybe explain what all the fuss is about.
You do not drive this car. You initiate a man-machine mind meld. The car does not rely on dials, gauges, or lights to communicate with the driver, it relays its feedback telepathically. The Ultimate Driving Experience may be a cliched marketing slogan but you'll start to believe it if you drive this car. Another reason it's such a heartthrob is BMW didn't make anything remotely like it for 18 years: a small, light, simple, fast and great-handling RWD coupe. The 2010 1-series M car and upcoming 2015 M2 are either the worthy successors of the E30 M3 or they're inferior copies of a masterpiece, depending on your point of view.
Available in coupe or uber-rare convertible, the E30 M3 was built to satisfy production minimums for entry into Group A Touring Car racing, allowing you to tell your jealous friends that you have a "road-legal race car". It was powered, like many a modern BMW, with an inline 4 producing, with the Evolution model, 217 hp. But most E30 M3's you'll see today have undergone extensive modifications to increase power output, either with the stock mill or with an engine swap.
#3 Audi Quattro
Photo Credit: Petrolicious
Why? Because racecar. Not good enough? Because racecar was so good, it was banned from competition (that's a long story, though). Still not good enough? The Audi Quattro was the world's first production car with an All Wheel Drive system that actually worked (the Jensen FF got there first but it was a bit wonky). This car is historic, like owning the world's first spear or toaster oven!
Because classic looks. It's your typical squared-off 80's hatchback, but it's been elongated and compressed, making it sleeker and giving it the classic long hood and short rear deck configuration that all beautiful cars have in common. It also has a certain Teutonic brutality to it. Even if one were unaware of how overpowered this thing was in rally racing back in the day, it still looks like A Car With a Purpose.
"Looks!" you scoff, "Looks don't win races." Ok, because turbo race car! The European model was ultimately equipped in 1989 with a 2.2L 20-valve DOHC turbocharged inline 5 producing a potent (well, for the 80's, anyway) 217bhp – with power going to all 4 wheels. The Quattro could reach a top speed of 143 mph (230 km/h) and had force choke-like grip to ensure quick entry and exits in corners. Sadly, the North American models were nerfed due to emissions regulations, and so buyers would want a Euro-spec or a tuned up domestic model.
Because still on the road today. According to Wikipedia, of the 99 cars imported into Canada (only 664 were imported into the US), fully 35 are still out there. And because while yes, racecar, it's also loaded with all the goodies of a GT car: A/C, power everything, leather. And because - well, I'm out of becauses. If you don't love this car by now, you will never, never love it (Ooh, oo oo oo oo).
#2 BMW E28 M5
Video Credit: Petrolicious
"BMW M5. Done." wrote fellow Opponaut ZeroOrDie when I asked for input on this list. Well, more like 1/10th done.
It's been said the E28 M5 is the best car ever made, period. It has the utility of a family sedan with the performance of a supercar, wrapped up in a luxurious, classy package that doesn't scream "look at me!" The 1980's was the Genesis of the M5, and with a modified racing engine from the M1, it was the fastest production sedan in the world in its day.
Hand built in Germany over a very short production run of four years (1985-1989), only 2,191 units were made, making the E28 M5 one of the rarest BMW Motorsport cars. But unlike other rare and classic sports cars, the M5 shares parts and a chassis with its more mundane sibling, the 535i. And even though its race-bred engine can be a demanding mistress, it's still fundamentally a BMW inline 6 of a type that was produced for 28 years and has a well-deserved reputation for reliability and durability (and a sweet noise).
#1 Volkswagen Golf GTI Mk II
Photo Credit: AutoCognito.com
The Golf GTI is the best car of the 1980's because it's built like a Panzer and combines the handling a golf-kart, the power of a sports car, the utility of a small wagon, and the operating costs of a moped. It was quite possibly one of the best-handling FWD cars of all time and had a very smooth, forgiving and durable manual transmission – which was great, since I learned to drive stick on a friend's GTI, and so it was nice not to have to pitch in for a new clutch plate.
This was the hatch that launched a thousand ships: a classic formula that has been copied ever since. For North Americans, this was our first introduction to the hot hatch concept, and we've been buying them ever since. A major reason for this car's popularity, then and now, is that it was economical to run, as it shared many parts and all of its body panels with its humbler Golf siblings, and its potent little four-banger was good on gas.
The one to have is the 1986-87 or later model with the 16-valve 2.0L engine from the Passat and Corrado. Double the amount of inlet valves as previous models, it was such a big deal that Volkswagen stuck a "16v" badge on the back of the car. Much like the BMW 'M' badge, lots of 8-valve GTI's had this badge slapped on to compensate for their inferiority: buyer beware.
Honorable Mentions: Chevrolet C4 Corvette, Honda Civic Si, Honda CRX, Honda Prelude, Mazda RX7, Merkur XR4Ti, Mercedes 190E Cosworth, Nissan Z31 300ZX, Toyota AE86 Corolla...
...and the Subaru Alcyone XT "for being a wedge of cheese" in the words of Oppo beatsbynelly. The 80's were pretty cheesy, at times.