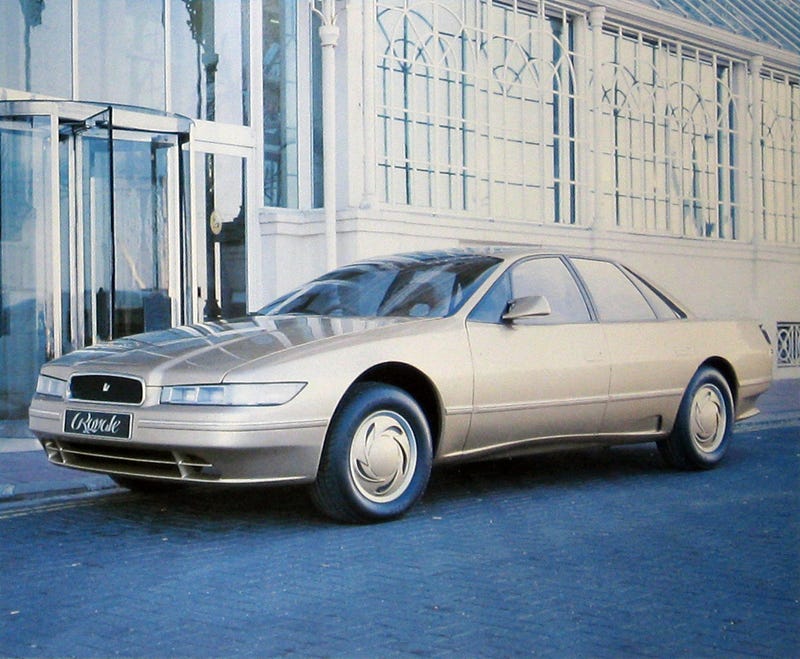 In 1988, a British design firm known as International Automotive Design (IAD) created a luxury sedan concept around a Subaru. IAD wanted to demonstrate to Subaru what a luxury Subaru could be, and why IAD was the group for the task (as opposed to Italdesign). The chosen starting point for this project was an XT-6.
The XT-6 may seem like a terrible place to start for a luxury sedan, but IAD managed to utilize their skill and work their magic to create this luxury sedan from a sport coupe.
The process involved significantly stretching the XT-6's platform; 31.5 inches in length and 13.8 inches in width. As a result, the replacing all of the body panels was required. Both the ER27 horizontally opposed 6 cylinder and the Subaru AWD system were kept, as was the air suspension. The transmission chosen was the 3EAT automatic.
The interior was also quite unique, utilizing a rotary keypad layout engineered by Phillips (who also engineered the headlights). The controls were redundant front and back, and included controls for the CD Player and CARIN Navigation System. The rotary keypad could be rotated up to 90 degrees for optimal operation at any given time for any function.
Here, a closer view of the rotary keypad can be seen. You can also see the gear selector, left over from the XT-6. However, it's now leather covered and stitched.
Opinions of the Royale at the time were mixed. Most complaints revolved around the interior dimensions of the car. CAR STYLING magazine (vol.65 1988/07) felt that the interior dimensions were significantly smaller than they should be for a car of that size citing the low roof line as the primary culprit. There were also concerns about the Royale being underpowered with the 148 hp 2.7l flat 6 as the chosen engine. CAR STYLING magazine went as far as suggesting a better engine choice. A 3.5l horizontally opposed 12 cylinder, which was rumored to be under development. This engine would turn out to be the Motori Moderni designed flat 12 for the ill-fated 1990 Coloni Formula One car. This engine has been covered here before. This engine, which made over 600 hp, never did make it into the Royale.
Subaru did not pick up the Royale, or any IAD designs. They instead continued to work with Italdesign, which resulted in the development and production of the replacement to the XT-6, the somewhat successful Alcyone SVX. IAD would go on to work with Mazda to develop the exterior and interior designs for the original Miata, as well as build several Miata prototypes. IAD was eventually sold to Daewoo in the early 1990s.