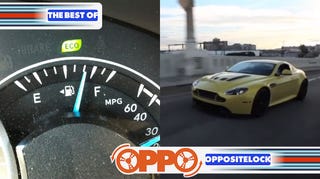 Assembled here are the best Oppositelock posts from Monday and Tuesday. Today we've got the quintessential rental car, Aston Martin's design philosophy, a Monday morning drive, digging deeper into the Cobalt crashes and more.
The 2014 Camry Will Make You Suck At Driving - Stef Schrader
"Surely it's not as bad as everyone says it is," I think to myself as I accept the only car left at the rental counter. "The likes of Jalopnik love to dig into a good Camry rant here and there, but it's just low-hanging fruit, right?" Wrong. It really is that bad—and perhaps worse.
---
Is Aston Martin Going Stale? - Jonny Edge
As the manufacturer of some of the most beautiful cars in the world, Aston Martin are held in high regard by journalists and car enthusiasts all over the world. When sliding Aston under the microscope though, you can observe some signs of decay. Aston Martin hasn't produced a truly unique design on a production car for over a decade now, with the exception of their hugely exclusive £1.2m One-77.
---
Why Monday Morning Is The Best Time For A Drive - jbh
With the winter finally thawing, and the salt washed away; CCC is once again gearing up for Autogasm season. To be sure that my route hadn't been destroyed by repeated freeze/thaw cycles I set out yesterday morning for a bit of a reconnaissance mission.
---
Digging deeper in to the fatal Cobalt crashes, one-by-one - Juan Barnett
Over the past month the media has highlighted and "investigated" reports of fatal accidents related to the GM ignition recall. They've gone through all the court documents, talked to engineers, executives. And now Congress is spun up and ready to go forth and get to the bottom of things. Yet for all the research and effort put into this topic many of the accidents presented in the media are not full reports of the accidents…
---
The brawling v8 Brits: Aston Martin V8 Vantage Vs. Jaguar F-Type V8S - dr861
In my mind, the list of prettiest cars in the world is a small one. But the one company, that is making the prettiest cars in the world, is Aston Martin, by miles. There are other cars that are very pretty, but I don't think any really come close to Aston's perfect mix of aggression and elegance. This is where the nice things I say about Aston Martin stop.
---
FTC Expands "Buyer Beware" Program to Online Ads - Automatch Tom
The Federal Trade Commission has been cracking down on dealerships using deceptive advertising. In "Operation Steer Clear" the Commission successfully charged 9 dealers for running deceptive ads, and is processing a case against a 10th dealership… Here are some highlights of the report.
---
Daydreaming: 2014 Camaro SS 1LE - Miguel Solano
So as most of us, I always keep an eye open when it comes to what I consider a realistic well-balanced fun car. Whether or not we are in the market is a different story. Lately someone brought to my attention the new performance package for the Camaro, the 1LE package, which is an addition to the SS trim. The package adds a few bits and bobs which resemble the Boss 302. So a few suspension changes, tires, etc. All around a fun car, and it looks great.
---
Misplaced Road Rage: Why DC Driving Sucks - RaymondStantz
I really, really don't like driving in the DC area at times. You probably realized this from my last jab at the anarchy that occurs on our roadways. Today I'll discuss road rage in the DC area and why it's almost always hugely misplaced, with a few anecdotes thrown in to prove my point. I mean, this did happen all of 10 minutes from my house. We're bonkers here.
---
The Most Underrated Competitor to the Miata: Toyota MR-2 Spyder - Elmo
The Toyota MR-2. One of the greatest mid-engined sports cars to ever come out of Japan. Commonly known in the MR-2 owner community as the Mister Two. It has had quite a history throughout the last few decades starting all the way back in 1984 with the AW11. Coming with a tiny 1.6L I4 that came in both NA and Supercharged form. Producing a massive 145hp and weighing in at just 2500lbs (2493lbs to be exact).
---
Fantasy WRC Preview: Portugal - Dusty Ventures
After yet another too-long wait we're back in action and back in Europe for the second gravel rally of the season, and if the opening gravel event in Mexico is any indicator it should be a good one. While the rally ultimately became yet another Ogier runaway more than half the WRC field was in the top three at one point or another, we saw the best ever stage finish of a R5 spec car, and Meeke and Kubica both demonstrated that they have the speed to battle at the front but haven't yet fully figured out how to keep it on the road.
---
I've lost a friend - JonathonW8
My fellow Jalops, yesterday my day got a lot less bright. Yesterday, I was still the proud owner of my first car, today I am the saddened previous owner of said car. After much debate with my parents who were storing my car, I had to take it to the junk yard, like some piece of junk and give them the keys. Yesterday I lost a friend, a compatriot, a car that got me through many a difficulty and many a joyous occasion. Yesterday, I had to give up my Durango.
---
Why Tesla Needs to go Racing - JonathonW8
Everyone knows that if you want to really test your car's capabilities, you go racing. The pinnacle of performance and durability. Car manufacturer's go racing to show how capable their cars are, whether this is rally, LeMans, F1 or stock car racing. Racing can either show the cars strengths, or provide a scale for their weaknesses. One manufacturer still needs to go racing. Tesla.
---
April Fools
---
The Best of the Rest
Audi For Life took photos at a rainy C&C event in Portland and of his S5. Cebu spotted a '65 Cadillac lowrider. Davesaddiction did some carspotting. Johnr240z entered his first rallycross. Philipilihp attended a soggy Katie's C&C. CalzoneGolem happened upon a race car show in a mall. Briannutter1 got some bits to reassemble his C5Z. Jordan Belfort added a 991 Targa 4S to his fleet. NaturallyAspirated had some weekend fun in the junkyard. BJohnson11 shared some more video of his team's FSAE car. RWS took a walk around London. Neon - Smart STIG modified the cluster in his Smart. Bird bought a bro truck. AncientOfDays is taking his AMC Eagle to the streets. Crazedclay bought an R33 Skyline. 404 Gear Not Found took apart some bus drivelines.
---
As always, If I've missed something and you would like me to include it, let me know.
Discussions
There were several posts that asked questions and sparked some good conversation on Monday and Tuesday. Take a peek and chime in on some of those listed below:
Just the #tips
Want to participate on Oppositelock? Check out the handbook for posting on OppositeLock as well the Oppo tools to help you get started.