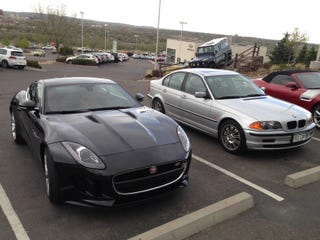 The good people at Colorado Springs' Red Nolan Jaguar-Land Rover gave me a call today to let me know they had their first two F-Type coupes in stock. They wondered if I'd like to drive one. "Why yes, I certainly would."
One car was an F-Type R model. "So," you the auto enthusiast might surmise, "you drove that one, right?" Wrong. Try finding a decent test or review of the F-Type S Coupe, without being mixed in with the R model. It's not easy. I opted for the F-Type S Coupe. What I did read though was it was more balanced and lighter than the R version. Plus, it runs around $20k less.
As you approach it from the rear, you are immediately reminded of how beautiful the F-Type design was conceptualized and executed. It is a stunner. Today's F-Type is black and indeed very villainous, as promised by Sir Ben Kingsley and Loki (Tom Hiddleston). Open the door - this one is not a sleeper. No British reserve is evidenced in its red leather interior.
Let's start it up, shall we?
That was intoxicating. I didn't want to go crazy with the reeves, after all, the car only has a few miles on it. Oh, but it is a sweet melodious resonance.
We pulled out of the lot and headed toward the mountains. I had to take it easy because of a certain octogenarian in the nearby retirement community has been known to call the dealership to complain about loud vehicles flying down his street. I respect his desire for serenity as he passes into the latter years of his life. Plus, there was a police car, though the officers had a big smiles when they saw our conveyor of villainy pass by well within the limits of the law. The optional high performance brakes assisted in keeping the F-Type confined.
When I open throttle, the Jaguar growls ferociously and before I know the hasty cat is hitting well over 80 mph with each shift giving a raucous blip, but really not a violent surge. The F-Type is smooth in its power delivery. At one point in the drive we visited Bear Creek Road and it has a few twists and sharp turns. I did not turn off the stability control, it's not my car nor is it a manufacturer car - somebody is going to buy this bad boy.
The F-Type performed flawlessly around the corners. I was intoxicated with its power and sound. You want one of these, no you need one of these.