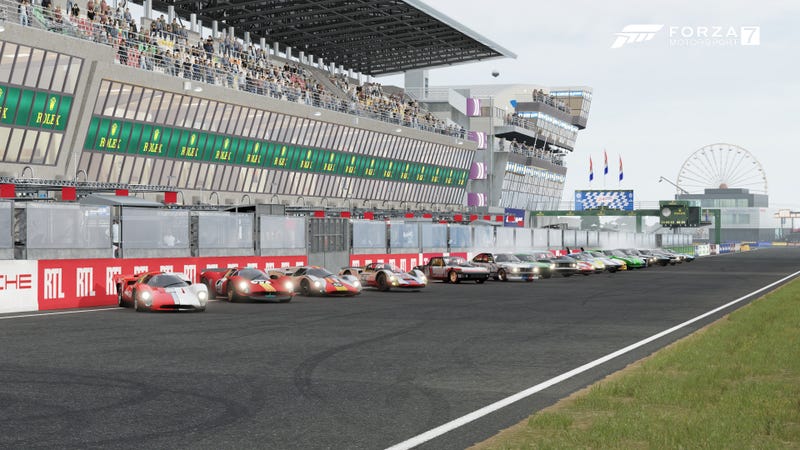 Here are the results, replays, and photos from the sixth round of The Oppositelock Forza 7 Endurance Championship, The Oppositelock 2.4 Hours Of Le Mans. In addition, the current points standings are in this post, as well as a few notes for the next round in July.
THE RACE
If you missed the race, check out the streaming list. All of the replays can be found there. Special thanks to everyone who streamed and to whitnith for being our pace car. We had a great race, though lost some people due to internet issues, unfortunately.
RESULTS
Here are the results by class, as well as a picture of the car used by each driver. Here is the full results sheet.
Sports - Proto
GT

THE TROPHIES
As per the usual with major championships/races, the winners in each class shall receive desirable, expertly crafted trophies.
For his 1st place finish in the Sports-Proto class and the overall race standings, the trophy for 1st place is awarded to SFM Chair!

And for his 1st place finish in the GT class, the trophy for 1st place in GT is presented to BIGBEN0913!

In addition to the trophies, I also combined the pictures of the full field and winners from previous races into one image to show how the field has changed over the years. Here is a link to 2014's post race, 2015's post race, 2016's post race, and 2017's post race.

PHOTOS
Here are some more photos from the race. If you have any pictures from the race that you want to share, post them in the comments.
POINTS STANDINGS
Here are the current championship standings for both drivers and manufactures in both classes. For sprint and endurance cup standings, click here to go to the full points sheet.
Sports - Proto Driver's Championship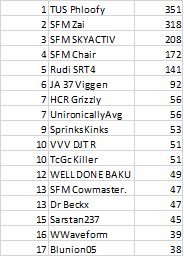 Sports - Proto Constructor's Championship


GT Driver's Championship


GT Constructor's Championship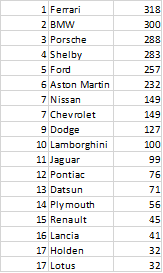 THOUGHTS AND COMMENTS
This specific race is one I've wanted to do for a long time. These cars on this track. In my opinion, some of the most beautiful and interesting race cars came out of this era. I wanted to see what happened if we tried that. And I am very happy to say that the resulting race was one of the best that I have ever had the pleasure of organizing and racing in. Even some Forza bugs couldn't stop the show. This was a race. There were comebacks, heartbreak, underdog stories, battles, and most importantly great racing. Some of you even said this race had more action than the real 24, and I'm kind of inclined to agree with you. It's just a shame the proto field was small and that we had a few disconnects (condolences to everyone on the west coast). Also that we couldn't get a time and date that worked for everyone. Nevertheless this was the biggest Oppo Le Mans ever. After all we've been through up to this point with Forza 7, it was nice to have a truly good race. I'd be lying if I said I wasn't getting burned out on Forza. Ever since 7 came out, the bugs have made it hard to really enjoy the game to its fullest. But it's races like this that remind why I love organizing and participating in events like this. I put a lot of time into Le Mans this year. And I'm glad it all payed off in, dare I say, the best Oppo 2.4 Hours Of Le Mans yet.
The fun racing won't stop here though. The next race on the OEC calendar is the Nurburgring Nordschleife. Since this is a longer track, we'll be keeping the rule of the field forming up separately under caution. Beyond that, there will be a few round specific rule changes potentially. First off, there will most likely only be one qualifying lap due to the time needed to complete a lap. In addition, I'm considering making this race have the fuel and tires damage setting instead of simulation. I'll include this in the voting and let you all decide whether you want fuel and tires or simulation. BoP will also be handled differently. I will not be doing specific BoP for this round due to the inconsistency of the track. Instead I will be using a combination of builds from previous rounds. Now I have spent a lot of time in all of these cars over the past 6 months, so I am familiar with them and have a good idea of which of the previous builds would pair best on this track. Nevertheless, it's likely BoP won't be perfect, though it's unlikely it would be even if I was making new builds. If you can provide proof of inconsistencies, I will make changes accordingly, but beyond that and the initial build changes no BoP will take place.
Four years now we've been doing this Oppo. Four years of great racing. And this race will be ranked among the best of them. Here's to next year's race, and all of the ones after that. Hard to say what the future holds in terms of game, attendance, or even this site. But as long as the racing is with you all, it will be great. See you at Round 7 of OEC.