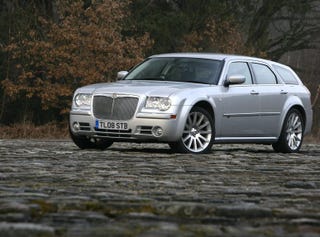 So we started discussing it in my previous post about upgrading a Dodge Magnum to the Gen 2 LH platform design language, but since it seemed nobody really knows much about this vehicle I'd share the story of how it came to be, and why it's the absolute most Jalop car produced by a US manufacturer, and many of you (unless you're from the UK, Mainland Europe, or Japan) had no idea it existed!
So what is it? Well it's the 300C Touring, and it started life as a Dodge Magnum, but beyond the doors, and B/C pillars it's all either specific to the 300 "estate" or from a 300C (like the front clip). The early models were built right alongside the standard 300C in the great white north (Canada), but in 2007 the assembly went to Magna Steyr in Austria. They're much more then a Magnum with a 300C front clip, the rear lighting is more to the Chryco design language, and the options packages were from a 300C not a Dodge. So they offered the upgraded interior. They were also available in RHD.
OK so it's a Euro spec wagon made by an American manufacturer that we can't get in the US, sound fairly Jalop so far right? Well it gets better! Engine options were the wheezy 3.5L V6, 5.7L Hemi, 6.1L Hemi (in the 2006-07 SRT8) and the only one that matters, a 3.0L V6 Mercedes Diesel! Capable of 40+mpg on the highway. It has 215 HP and 372 Lb-Ft of torque. With the diesel mill it could do the 0-60 run in under 8 seconds and continue on all the way to 140mph! And with that much torque I'm sure it's a burnout monster.
Could it get any better? Yes, yes it can. From 2006-2007 they did offer an SRT8 variant, good luck finding one... I certainly can't. I can assume this is due to gas prices overseas, and cost thanks to huge taxes on cars like that. But, You'll notice the picture at the top looks surprisingly like it has the SRT package. Well that's because it does. Similar to the Audi S-line it's more show then go, but in 2008-09 they offered the 300C Touring CRD SRT-Design, so it's got the aforementioned V6 Diesel, the SRT body kit, slightly lowered, and SRT interior accoutrements. Is it blasphemous to sully the SRT name by not having a fire breathing engine and sport suspension? Probably, but the diesel is no slouch, and 40MPG... I'll club a baby seal for MPG in that range from an engine with those numbers!
Here's the SRT8 Version, compare to the SRT-Design version at the top of this post (externally they're almost identical):
I know what you're thinking, how hard could it be to import a RHD 300C Touring SRT-Design? Well, I've actually been looking in to this for some time, and while it's relatively easy compared to importing most cars newer then 25 years old, it's still not easy, and certainly not cheap. Right now a mint version, loaded, sells in the UK for ~$30,000USD, getting it road legal for the US once it's been imported is about another $20,000, take on all the fees, taxes, VAT, shipping, finding insurance, and you're well north of $50k. If I could get my hands on an SRT8 I would, but I feel IF I could find one, it would be extremely expensive, and that would bump the costs well north of $80k... screw that! I've told myself since I first found out these exist (my 2008 trip to London) if I could import one for less then $50k (every option possible, and super low miles) I'd do it... that day has yet to come, and it may not ever come.
So to wrap it up, why did Chrysler do this? Some of this is facts I know, some of it is extrapolation. The markets in the UK and Japan LOVE wagons, almost as much as we do, but the Dodge brand isn't really marketed very well outside North America, so a Dodge Magnum wouldn't sell well. A Chrysler, while still not a beloved brand, has better brand recognition, and is considered more "up-market". They only offered it in the 300C and SRT trim levels, adding to the up-market persona. I haven't been able to confirm this but the SRT8 variant appears to have been offered in 2006-07 only, switching to the SRT-Design in 2008-09, it's safe to assume the SRT8 didn't sell well thanks to the gas guzzler 6.1L V8 under the hood. Overall the car sold very well in the UK and Japan, at least by Chrysler's overseas standards, roughly 10,000 units per year in the UK, I haven't been able to nail down exact numbers in other countries thanks to the language barrier. Finally, the diesel option is a no-brainer, North America has a stigma about diesel that the rest of the world does not, and with the above quoted performance numbers it's simple to see the market potential outside the US.
So there you have it! All it's missing is a manual gearbox, but we live in an imperfect world! How do I know as much as I do about the vehicle? I'm an obsessive Jalop that saw one in the UK and has been mildly in love since then, I'm sure you all understand!