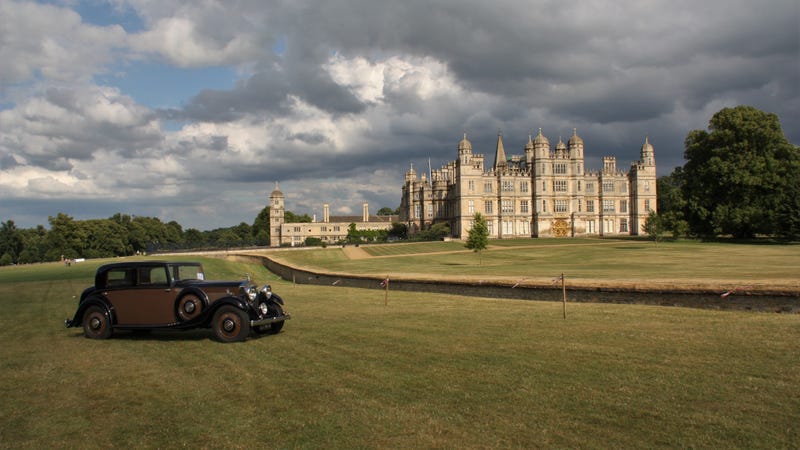 Last weekend was the annual Rolls-Royce Enthusiasts' Club reunion in northern England, so my dad and I went for a 800-mile roadtrip in his 1934 20/25 Rolls-Royce. Here's how that five days adventure went!
The event itself was set for the weekend, but we left Thursday afternoon from the south of Paris. The car being 83 years old, it doesn't quite have the cruising speed of a Veyron, so we split the trip in two legs: first from home to Le Havre, where we would catch the night ferry, then from Portsmouth to Peterborough.

When we left, France was in a heat wave, and being stuck in traffic in a car with no AC with the sun beating down on you and with temperatures between 95 and 100°F is not much fun. But amazingly, the car held its own much better than we did, not even showing a sign of overheating. It did drink a bit of coolant, but that has more to do with a couple of broken screws on the head than the temperatures themselves.
On Friday we went up England from Portsmouth to Peterborough, were our hotel for the weekend was waiting towed because we had all day to make the trip we decided to enjoy it a bit. So we stopped at Henley, were a very famous rowing race is happening next week My sister is in it, and the town was already abuzz with the preparations for the big event so that was quite fun to watch!
It was also time to enjoy a bit of bacon at the local pub. Because it's always bacon time.
Next stop was Newport Pagnell, the former home of Aston Martin. Now, the old factory is gone, but there's still an heritage center just across the street from were it was. And quite the fancy parking lot! We only made it fancier...
We arrived just for pub time at Peterborough. Once again, the car has been absolutely faultless. And with the now much cooler English weather, the trip was also easier on us. And the amount of positive reactions the car gets from other drivers is always a great morale boost. Impossible to not enjoy yourself!
Plus, being RHD, the car felt right at home on those British roads it was designed for. You absolutely get the feeling that the car was built for this, the 55mph cruising speed matching perfectly the narrow A— and B—roads.
The morning after we traveled the 15 miles from Peterborough to Stamford to attend our first day at the meet.
The more serious stuff with the concours d'Elegance and so on is only on
Sunday, so on Saturday everyone can park wherever in place that was reserved by the RREC on the wonderfully green gardens of Burghley House. Doesn't get any more fancy than that!
Between two and three thousand cars were expected for the event, but we started our tour by the numerous tents that housed various parts sales companies, restauration specialists, etc. Of course, being a meet for classic British cars, I suspect these were quite useful for many here...
And I have to say, the reputation these cars get for heinously expensive
maintenance doesn't seem to be entirely unfounded. I've heard nasty quotes being given for various works, and the price of original parts is entirely prohibitive. A small wrench from the tool set of a pre—war car will set you back £100, for example. And I'm talking very, very small wrench there. So I'll let the cost of a new engine block up to your imagination.
My dad took this opportunity to get a couple of minor parts too, and even get some quotes for a bit of woodwork to be done inside the car. So touring all these shops took us all morning.
But after a welcome lunch next to these jazzmen, we decided it was about time we saw some cars. So we went and did that.
The cars brought by the members of the REC ranged from the very beginning of the company to right now, and a good deal of Bentleys since the two brands share a wide common history.
The cars being individually coachbuilt at various places for most of the brands' history, no two car was exactly alike. So even there were only Rolls—Royce and Bentleys to be seen, the event wasn't lacking in diversity.
At about 6pm, cars started to leave the place, so we did as well. We hadn't had time to see all of the cars, but we knew they'd be back the next day. On the way out, we stopped in front of Burghley House with a clear View to get some great shots of a great car.
We then parked the car on Stamford itself, in search of a pub. Pubs are awesome. Stamford is a very pretty town, too.
Then it was back to the hotel for a good night's sleep.
We got up quite early on Sunday. Because we split the return trip too, we would have to leave at around 4pm to catch our ferry back at Portsmouth. So we weren't going to waste a minute not looking at fabulous cars.
By about 8am we were parked on Burghley House's lawn. On Sunday, because the concours was on (even though dad decided to not compete, as did many others), all cars had to be sorted by model. We were in Class 6, for the 20/25 cars, slotted between the earlier 20HP class and the later 25/30 cars.
The judges were early at work, inspecting every little detail from the cars entered in the concours, asking the owners to start their engines and show their smoothest and lowest idle.
The cars all sorted by model, it's the best time to wander around and ponder about the different styles offered by the various coachbuilders of the time, and have a chat with the owners.
One of my favorite surprises came from the people themselves. Far from the Pebble Beach-like atmosphere you could expect from a Rolls-Royce and Bentley-centric event, there was a great mix of backgrounds, from people who had the car in the family since new to gentlemen who grew up with one dream in their heads: owning a Rolls. Everyone was absolutely passionate about the cars, and the general knowledge gathered there must have been absolutely astonishing.
At 11am, we took a break from all this mechanical majesty to go and visit
Burghley House. It is quite the House indeed, built for the treasurer of Elizabeth I, and improved ever since. There's a distinct Downtown Abbey Vibe coming from it!
But back to the cars.
Every year, a local club is invited to tag along the main event. This one was quite awesome!
We then ate at the main lunch thing, where we're invited to meddle with other people, which is quite nice. But we had to hurry, we came all this way to see some cars, so we were going to see some more before leaving!
I still don't think we had seen all the cars, there were so many. So many different models, so many different bodies on these chassis, so many quirks and features!
But anyway, if we wanted to catch our ferry at the other end of England, we had to get moving.
The way back took us about 5 hours. We didn't stop much this time, except to buy some coolant. Not even to fill up the tank, because it's quite huge and the car doesn't drink that much. We were quite happy in the car, cruising at 55, watching some British countryside go by.
A last pub, a short night aboard the ferry, and we were back in France,
complaining about Parisian traffic, as you do. The car has been, once more,
absolutely faultless. I'll do a mini Oppo review on it because I got to drive it a bit, and I think it was so brilliant it deserves its own post.
If you want to see more of that event, you can check out my full gallery over on Flickr: