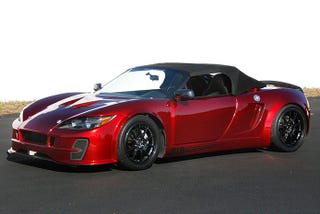 The Factory Five 818, the MR kit you can build with a wrecked WRX, has gotten a bit more livable. They showed it with a soft top (as opposed to the previous no top) at SEMA, though I haven't been able to find anything about where the shelter goes when you don't want to use it, or how much it costs, or if it comes with, you know, windows.
Even so, I think I'm sold on the 818. I've always wanted a Seven, but I think it's been usurped. You can buy the 818 kit for $10k, a crashed WRX for under $5k, and if you have a garage and some spare time, you can build it in about 200 hours.
I want it. Even untuned, that's around 250 hp (depending on your WRX of choice) spread over 1,800 lbs. And for $15k, it would make a phenomenal track toy.