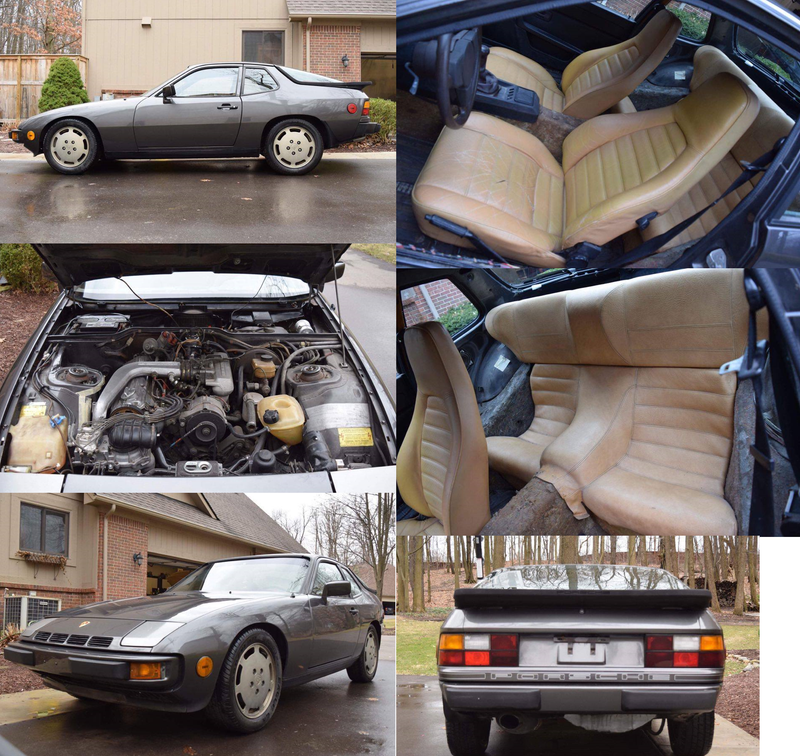 This is the car I'll be receiving tomorrow afternoon. I will share some more things about it below.
It is a 1980 Porsche 924 Turbo (931).
I'll be the actual Third owner of this car. My friend bought this out by Detroit Metro airport from the deceased original owner's grandson. It has just over 55,000 original miles, and even though it's possibly been repainted rather brilliantly, it retains it's factory correct Dolomite Gray Metallic exterior aside from the replacement headlights.
Of the 11616 total 931s produced, this is one of the 5243 made for MY1980, and of the original 3440 sent to the US, this is #1027.
My friend has done all the service (belts, fluids, new battery, and spark plugs and wires) to the Porsche-built 2.0T motor. But it currently doesn't run properly. It'll sometimes start, but it doesn't like to idle. This is one of the last few Porsches powered by the wizbang doodad magic that is Bosch K-Jetronic.
Also, prior to it being rescued, it spent it's life outside where the original carpet became moldy. My friend removed the seats in anticipation of installing a new set. Fortunately there's no rust in the floorpans either. There's no rust on the body to speak of at all, good meat on the bones. The seats aren't too shabby, with the only damage being a small tear on the drivers seat, but I don't like the color much.

The suspension is good as well. So here's what will be happening to the 931:
The one rust spot on the hood will be cleaned and the hood will be repainted entirely (my friend can paint really good). Chipped paint spots will be touched up as well
The engine will be sorted out and made to run right.
The floorpan will be redone and repainted with POR15 and topcoated in a color that will match the future dark blue seat covers for the seats.
The seats will be recovered to a dark navy blue.

The spare dashboard will be refurbished and recovered in a dark gray.
After this, all that'll need to be done will be regular maintenance.
This'll be a good change of pace. It won't be easy, but with my Porsche friend helping me save this car, I'm sure that I'll be able to give this car the same love and affection the 944 has had.
So I guess we'll call this 931Lyfe.