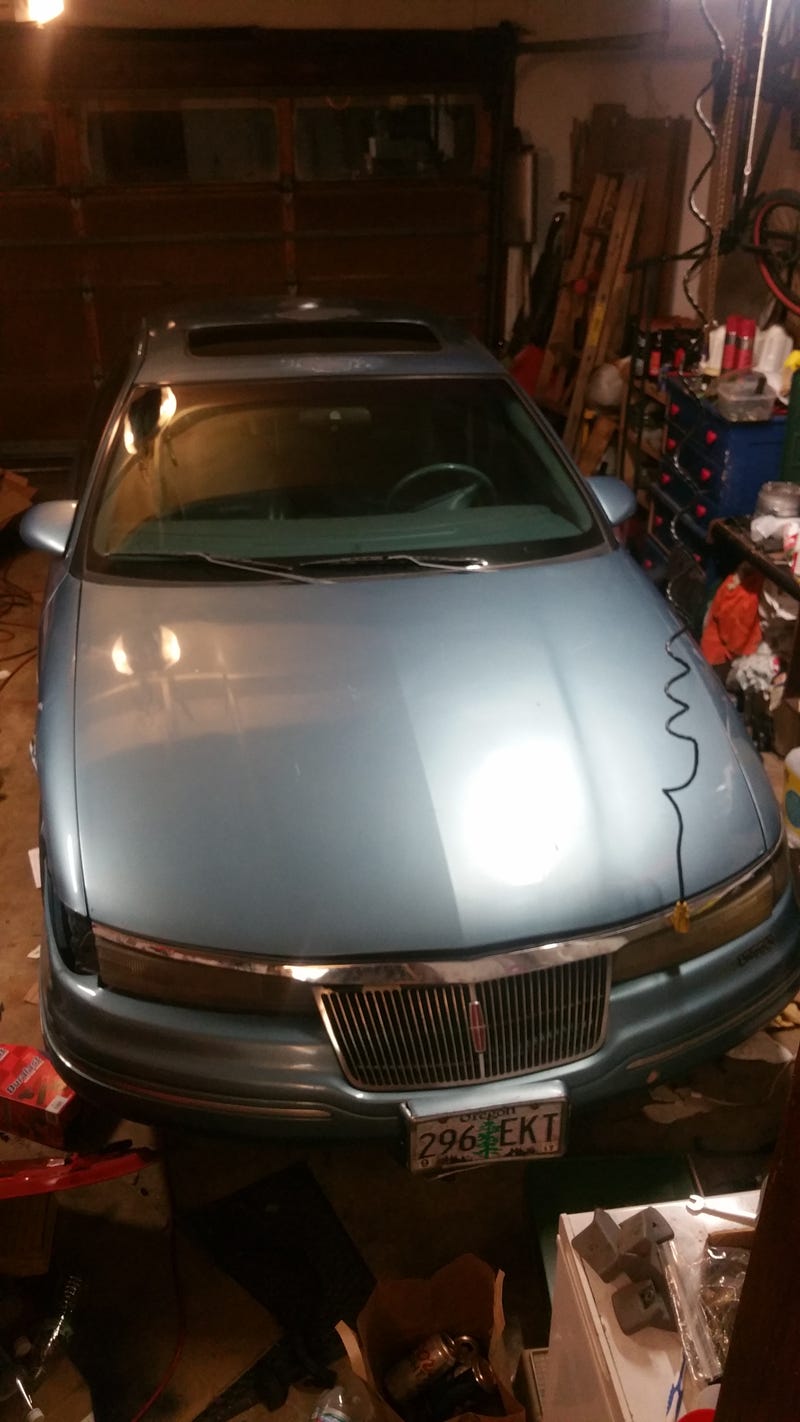 Welcome Oppo, to my very first series in which I make horrible financial decisions, and try to make something out of them. Our subject is a 1993 Lincoln MK VIII China blue on blue that I picked up for a whopping $300. Does it have problems? You bet! But that's half the fun! And so begins the laundry list of said problems, starting with:

Bodywork
Overall the paint is in fairly healthy shape surpringly. It actually may have the best condition paint off the bat of any car that I have purchased. There's two spots with some peeling clearcoat, one on the trunk, the other on the roof. Should be an easy fix but is last priority right now.
The passenger side fender needs to be replaced, along with the turn signal, and there is also a small dent above the rear wheel on the passenger side. Looks like an easy DIY. It also will need a replacement grill at some point, not to mention a good headlight polish.
Interior
The interior is... well, it's foul. Beyond foul actually. Remember how I said this car had the best paint of any car I purchased? Well the tradeoff would be the interior. This is by far the most disgusting interior of any car I've owned, and the competition is fairly tough here, between puke stains and coffee in the Jaaag, and melted candy and cigarettes under the seats of the BMW.
The drivers seat is broken and lays down. Still deciding if I'm going to just replace it, or have a go at fixing it. There are crumbs in every conceivable gap throughout the interior. The carpet is gross, and it is just generally filled with shit. Speaking of which, let's go through what we've found so far.
Pictured here is about half of what we (my live-in gf and myself. She's a keeper, needless to say, for not only putting up with these terrible decisions, but also helping me with them.) have found. A bottle of muscle relaxers, a pipe, a grinder, a bag of pipe scrapings (so filthy), a random photograph of children blowing bubbles, various sockets, wrenches, and extensions, boxes of hair ties and rubberbands, it just goes on and on. Amongst things not pictured (some for obvious reasons) are, somebody who was not the owners birth certificate, a condom still in the wrapper thank Jesus, a pair of socks, candy wrappers, lots of broken glass, a 3/4 drank can of AMP energy drink, and more various tools and trash. The interior of this car is dark, brutal, and filled with hatred.
Mechanical
The engine seems to be fairly healthy and was supposedly swapped in 30k miles ago, though there is no paperwork to back up said claim. It does have a bit of a misfire but appears to be something simple. When cold started it will hunt for idle for about a minute leading me to believe the misfire involves either a vacuum leak or the IAC. I do have an OBDI code reader for Ford coming soon. The oil looks clean, the coolant looks clean, and the exhaust doesn't have a smell to it, nor is it smoking. It does have one of those garbage "cold air intakes" that will be one of the first things to go. It also has a fairly ghetto straight pipe which will also be addressed, but isn't a priority. Power steering doesn't work and holy shit is it heavy. A whole different animal compared to my e24 with no power steering or brakes. Transmission shifts as it should and is not a concern.
The suspension needs to be gone over as there is a clunking coming from the front right side, but it does drive straight with no pull to either side. The air ride system surprisingly seems fine as the bags stay inflated, though I will likely be converting to coils once all the issues are taken care of. In the meantime I'm considering letting most of the air out via the solenoids on the bags, and switching the pump off, because I enjoy looking like a poor with broken suspension.
The only other issues mechanically that I have found is the middle blower for climate control does not switch on, the heater core is bypassed (AC still works. Shocking I know), a lot of half-assed wiring that needs to be either redone or tidied up, and the sensor in the door hinge that detects whether or not the door is closed needs replaced.
I'm sure I'm forgetting a few things here and there, but I think sans the interior this should be a fun little project. If any Opponaughts have experience with either MkVIIIs specifically, or the 32v 4.6 out of the sn95 cobra, I'd love to hear your thoughts as far as upgrades or maintenance.
Project total cost so far:
$300.