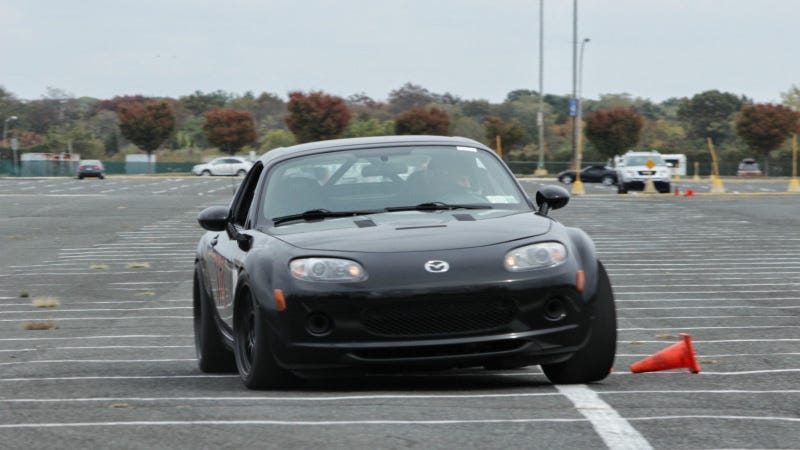 The Mazda MX-5 Miata was launched in 1989 just as the classic two seat European roadster market was imploding. Sales of the MGB, Triumph TR-whatever, Fiat Spider and Alfa Romeo Spider were either on their way down the drain or just heaping portion of Indian food away from splashdown.
At the time it may have looked foolish from the outside to release a car into a market that was drying up, but the folks at Mazda knew they had the recipe right. The only complaint you could level at the little apex carver was that it was light on power, but if we know anything, it is that GM's LS series engines can fit anywhere. Find this 2006 Mazda MX-5 with LS3 V8 Power currently bidding for $17,300 reserve-not-met on ebay in Syosset, NY with 3 days to go and an insane $45k bin.

The 3rd generation Mazda MX-5 (NC) was released in 2006 model year with a new multi-link rear suspension in the back (if you get the chance you really should take a look at the length of the rear upper/lower control arms on an NC MX-5, they extend all the way to the differential like a Formula car). The 2.0 liter MZR engine was new to the MX-5 chassis but of course it wasn't enough for a previous owner of this one...
Under the hood is 6.2 liter LS3 crate motor from the GM parts catalog that would have been rated at 430 horsepower and 430 ft-lbs of torque, but various parts (including an LS7 cam, fancy pistons, etc) have been added so power should be closer to the magical 500 horsepower range.
See another way to burn up all the rubber on the planet? tips@dailyturismo.com
Originally posted as 10k: Corviata: 2006 Mazda MX-5 LS3 V8 Power on Daily Turismo.