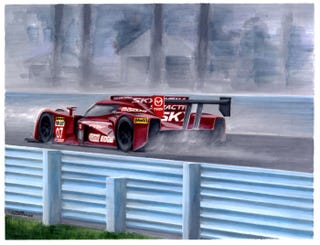 Besides being a badass aspiring car designer and my roommate, Dan Hounsell is one of the most talented artists I have ever met. And best of all, instead of using his skills to draw boring things like bowls of fruit, he almost exclusively draws racecars.
Everything shown here begins as a pencil drawing, and then is colored with markers, often evoking vintage racing posters.
(If you're wondering why this looks different from the actual car, it's because he drew it weeks before the NISMO LM was unveiled)
He's just started putting some of his art on Society6, and I'm going to pester him to scan everything he's drawn and put it up for sale, despite making my Society6 page look like a kindergartner's work in comparison. He must have hundreds of drawings, ranging from the completed compositions you see here to 15-minute sketches of Lebarons and Sentras that he did on the plane ride to COTA last summer.