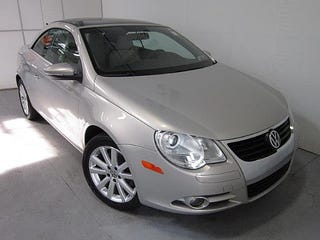 My wife needed wanted a new car. I wanted needed a new car payment like I needed crabs, but to be fair, my ten year old AMG Mercedes had been downright Toyota-esque in its reliability compared to her 2010 EOS. I never trusted the 10k mile oil intervals recommended for the EOS, and sure enough, dirty oil had forced open the separator valve and allowed oil where it wasn't supposed to go. In the past 4 months, we replaced the engine coils, oil separator and air intake.
Not to mention we both had two-door convertibles and accidental dog we called Lex Luthor, was causing havoc in the EOS's pseudo back seat. Grad school was wrapping up and kids were possibly on the horizon. We needed a four-door. We needed a fun four door.
Visions of E55 AMGs swam in my head, something cushy and unbelievably fast, and (maybe!!!) a righteously long roof. An E55 wagon with nearly 500 horsepower and nearly as much torque was completely responsible—right? But a quick Autotrader search showed me that although some pretty sweet W211 E63s could be had at the 25-29k price range with reasonably low miles, the wagon commanded a ridiculous premium and well, my wife considered a station wagon in the same school as a minivan and didn't seem too enthusiastic.
She had a list of demands. It had to be pretty. It had to be relatively sporty – nothing big or bulky like an SUV or a van or a truck – she was still young dammit. So I did what any man should do in that situation; capitulated completely and began scheming. I made up a list of perfectly sensible, fun cars, a VW Golf, Mazda 3, Hyundai Veloster, Ford Focus (ST?). She took a look at the list and vetoed the Focus ("Ford?!") and Hyundai, and added the Mini Cooper (pretty) and Jeep Wrangler:
"How is a Wrangler not a truck or SUV?"
"Shut up"
So I shut up. I started doing my own reading and decided pretty quickly that given the options, I'd probably want a GTI. In a pinch, I'd settle for a Mini Cooper S, though they seemed underpowered compared to the GTI and ST, which cost less.
We test drove the Volkswagens first. My wife pretended the Golf was "enough" – but this woman's father drives a 997.2 Carrera 4S. She knows a good thing when she sees it, and she drove the GTI for about five seconds before her eyes got really wide, "This one is fun."
The guy at the Jeep dealership sat in the back seat and texted on his phone the entire time we drove the car, and the interior was lackluster, and the drive uninspiring after the GTI. Workmanlike car. Different kind of car. Not her kind of car.
A few days later, I was making a hard push for the GTI. Mistake. "The GTI is a teenage boy's car!" She immediately started looking for Acuras, she's had two, and when she showed me an ILX and I commented on how it was basically a Honda Civic priced higher than an Accord and not as good, she got pissed. This discussion wasn't going to go anywhere. We dropped the matter.
The next day she went out alone and test drove a Mazda 3 and told me she really liked it, but when she went directly to the Volkswagen dealership to drive the GTI, she finally buckled. "It really isn't close. The interior, the drive, the handling, it's MUCH better." She went to try the Cooper S and Countryman S – they didn't make the cut, the SALESMAN even told her to get the GTI. Sold. Kinda.