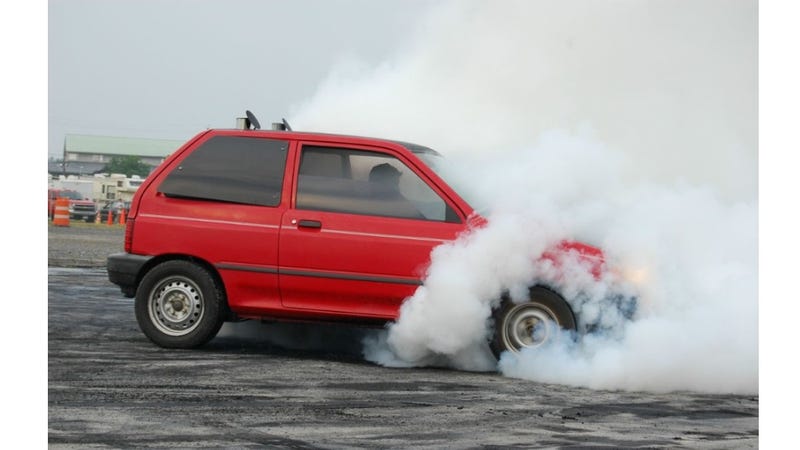 The first generation Ford Festiva was a subcompact econobox designed by Mazda and equipped with a small 4-banger powering the front wheels...until some nutjob decided to put a V8 into this one. But what can only be described as the best of Frenchxican tradition, this Festiva is mid-engined and front-wheel-drive.
The Festiva (named for the Spanish word for festive) was built in Japan by Mazda and in Korea by Kia and available with a variety of Mazda 1.1 to 1.3 liter BJ series 4-cylinder engines. Needless to say, it was extremely slow when new, until a Citroën Traction-Avant fan picked up a used Festiva and shoved a Chevy V8 into the middle and hooked the power up to the front wheels. Find this 1988 Ford Festiva with Chevy V8 for sale in Woburn, MA currently starting bids on ebay for $2,000 with zero bids and 5 days to go. Tip from Cory.
Under the hood is a prominent radiator, fuel cell and suspension parts, with only the tell-tale remnants of a differential up front to let you know something is wrong. Pop the rear hatch and you are greeted with what looks like a radial engine exhaust setup in front of a mid-mounted V8. The seller describes the setup as mid-engine mated to a TH350 trans and using a BMW center diff to put power into modified front CV axles. That funny looking exhaust setup involves a cable actuated exhaust diverter valve mated to a simple side exhaust or twin top exit truck style exhaust pipes.
Those twin top exit pipes aren't always extended through the roof flapper valves, and are raised/lowered by a system of electric window motor/mechanisms. Perfect for impressing your neighbors with un-muffled awesome and then lowering/silencing them to pickup your date at her parents house.
Inside the cabin is all business (it should be really loud...) and while the fixed sport seats look relatively comfortable, the exposed silicon coolant hoses running under your passengers legs should be a good substitute for the defunct heater system.

They say money can't buy happiness, but I dare anyone to NOT smile while driving this car...

See a better smiles per mile factory? email us here: tips@dailyturismo.com
Photo credits; ebay.com
Originally posted as 2k: Party In A Box: 1988 Ford Festiva w/ Chevy V8 on Daily Turismo.