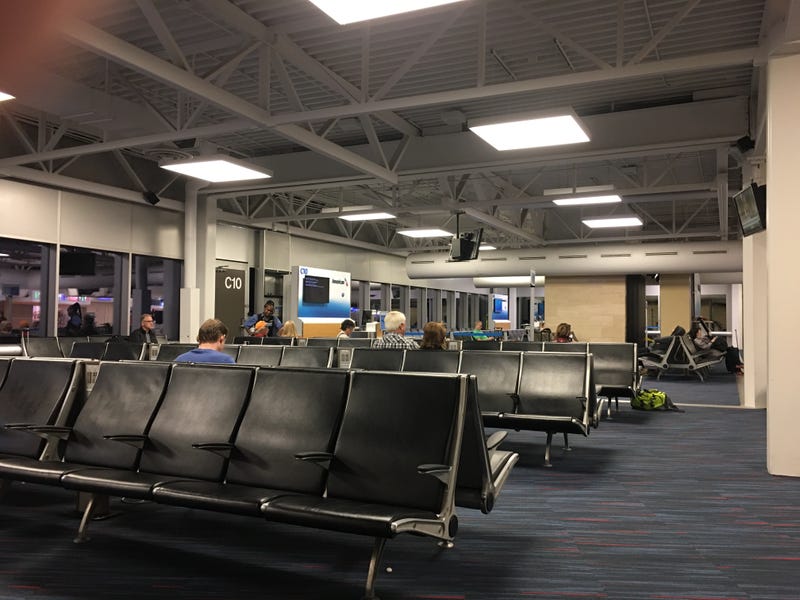 All trips, fun or not, begin the same - waiting. I should be boarding now, but woke up to an alert from AA after just two hours of sleep saying that my 0605 departure had been pushed back to 1500, then moved up to 1300. I'm being rerouted through Chicago, so if looks like I'll only be about two hours later than planned, and just about the right time for lunch over at The Crab Cooker (funny, I've never had the crab in all of the decades I've been eating there...) And, as expected, my carefully chosen aisle and window seats have been replaced with middle seats on each leg. On the bright side, I have a fully charged iPod nano, noise-cancelling headphones and a couple small bottles of 18-year old Chivas Regal. Equipped as such I should survive whatever they throw at me next.
Packing was the usual mess, and at the end of was just slamming stuff into whatever case the stuff would fit into. Hopefully the beer assortment will survive the trip, and if not, well, I guess I have a bit of laundry to do. I'm taking all sorts of electronic items as gifts (in addition to the beer), and I wasn't surprised when the Tub Stacking Authority wanted to do lots of unpacking and supplemental screening.
The handle on my $0.50 carry-on suitcase broke whilst crossing the tracks at the light rail station, getting hung up on one of the tracks. I glanced up and thought I saw the train approaching so I yanked on it and pulled out part of the handle. Oops - blame it on sleep deprivation at 3:30 in the morning. And after paying $25 for my suitcase they looked at the scale and saw that it was overweight and now wanted to charge me $100. Nope. I transferred what I could to my carry-on and laptop bag, and then left a bottle of hair gel behind in order to get it down to exactly 50.0 lbs. And yes, I managed to keep all of the beer. Priorities, man, priorities...
St Louis is a beer town, and my folks appreciate a good brew (they were homebrewers back in the day), so I wanted to bring them an assortment of microbrews from around town. I also have a mix of networking equipment and kitchen gadgets (vacuum sealer, powered knife sharpener, etc.) going with me, and that stuff ads up in the weight department. I'll be leaving most of it behind, so I shouldn't have luggage issues on the way home.
Now to check my bags for breakfast. After paying $2.60 for a bottle of water I'm certainly not going to pay $10 for an Egg McMuffin or whatever they have/charge. I had a few snack items planned, but of course couldn't find them whilst packing. Having spent plenty of time unpacking and repacking today I know I have some other items, so I'll be OK. I'm a little surprised that I'm hungry at this hour since I usually don't eat until 0700 (work starts at 0300).
Updates to follow...