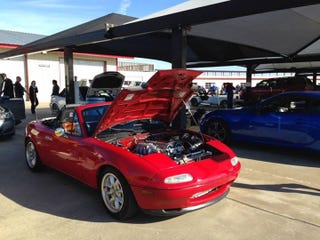 The idea that you need a large salary or an even larger salary to start tracking your car is false. Here's why, because you might want to push your car to get to know its performance capabilities, not because you want to push it to the limit(although you might just find its limit!).
So where does that leave someone who wants to go experience an open track day and wants to buy a reliable, cheap, fun, easy-to-fix platform for them to start off with? Here's how my list goes.
1. Miata
2. Civic Si (7th Generation or Older)
3. Mini Cooper
4. Oh and uh, Miata.
Of course, everybody has their opinions and there are many wide varieties of great cars for a beginner's first track day. What are your suggestions for great, cheap, reliable track day cars that can be worked on easily? Chime in below.