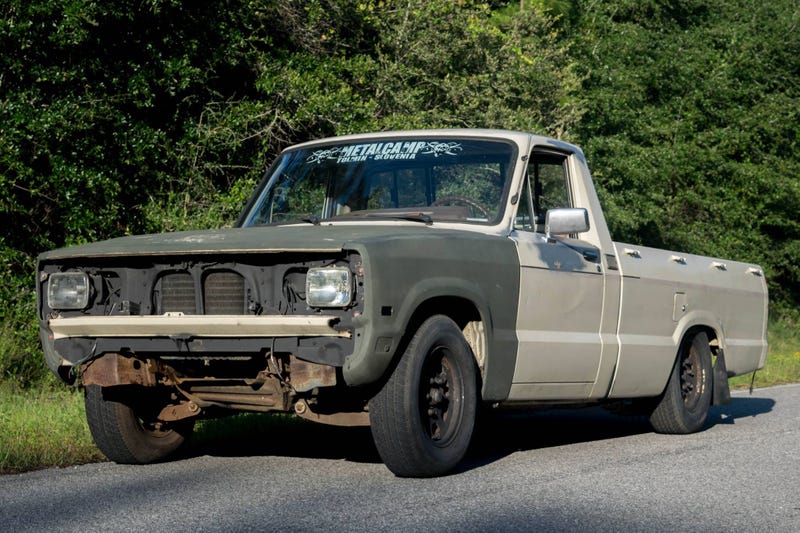 It was 4 pm on a Friday afternoon. I'm getting ready to leave work and decide to thumb through my local Facebook FS/FT group. "$300, need gone today, 1984 Mazda B2000. DOES NOT RUN." I quickly ring up my good friend Roflcopter whom I end up doing just about every car adventure with and say "You wanna go try to play Roadkill tonight?" Of course he's interested so I drive over to his house, cash in hand.
By this point the sun is setting and we still have a hour and a half drive to get to the seller's house. When we arrive at around 9:30 pm, we decide to strategically park so that we can make a quick get away. The neighborhood and general atmosphere didn't exactly shout "you're safe here." Upon meeting the seller, who turned out to be a great joy to be around, truly needed the truck gone today as he was moving in the morning. We had a Volvo 240, a box full of tools, and no trailer. We're driving this truck home tonight.
Pop the hood and BUHOHMYGOD IS THIS REAL? Thank god there was no battery because the amount of immediately visible electrical shorts was breath taking. We later discovered the battery was dead and removed because the coil was hooked up in the most janky way that constantly drew power. Scary. As it turns out, the always-on coil melted the igniter.

I kid you not when I say we found a replacement igniter in the trash can next to the truck. I also came prepared with a new coil among other possibly required replacement components, just in case. Eventually we un-fucked the gaggle of wires and BWAHROOM!!!!! The open header 2.2L engine woke the neighbors at 10:30 pm. Victory! Almost. Lets fill the radiator with a garden hose and drive it around the block.
Why doesn't the clutch engage? *Removes cap for clutch master cylinder reservoir.* It's bone dry. No big deal, lets fill it with a bottle of questionable brake fluid that's in the bed of the truck, with all the tetanus-giving rusty things, and bleed the system. We try to bleed the system for about an hour when we finally realize the seals are not sealing. We can't build any pressure to complete the job. It's mid-night.
How do we get this truck home? It's only leaks fuel from the fuel feed hose to the carburetor and still has a lot of janky wiring. Oh, and you have to hit things to make the exterior lights work, but it's so close to being road worthy; we just need a functioning clutch. As it turns out, we couldn't fabricate a hand-actuated clutch with rope and the available electric solenoid (the guy wanted to make a low-rider mini truck) actuated in the wrong direction for our application, so what do we do?
1am
We're were in a hunger and exhaustion induced stupor when we decided to dissemble the master cylinder and try to use a pack of various O-rings to create a seal. Upon disassembly, it appeared that the rust in the cylinder just grabbed the rubber seal and moved it off the piston. WE CAN FIX THIS. 30 minutes later with a screwdriver and PB blaster, I manage to fix the master and slave cylinders. We bled the system and HOLY SHIT WE'RE DRIVING THIS JUNK. WE'RE ACTUALLY DRIVING THIS JUNK
It's about 3am at this point (sorry for the loud test drive, neighbors) and we still had to drive back into town to get a battery for the truck and also get a gallon of gas to get it to a gas station. By 4am we had done it. We were hauling ass back home in a 1984 Mazda B2000 that hadn't ran in who knows how long, had shoddy brakes, a poor alignment, was leaking fuel in the engine bay, had grossly dry rotted tires, AN OPEN HEADER, rust holes in the floor that you could walk through, and intermittent exterior lights. But I got it for $300.

About two years prior, Roflcopter and I had another journey that involved getting a 12A rotary engine for $50. A couple of months ago I managed to get a couple of free turbos from a 2JZ just for taking them off of the engine for a friend as he is upgrading to a big single turbo.

This $300 truck is going to be a LeMons race truck with a P-port twin turbo 12A. I'm excite.

Edit: I forgot to mention that I have a friend with a wrecked Miata. In exchange for helping him pull the engine and borrowing my hoist, he's giving me the rest of the car. There is the truck's new suspension/brakes/drive train.