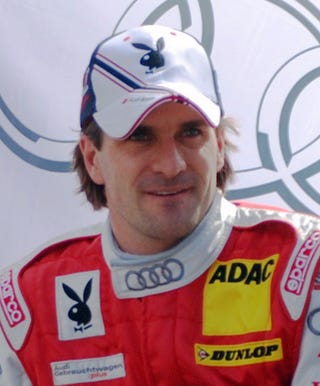 In the annals of Formula 1 history there are few stories stranger than that of driver Marcus Winkelhock at the European GP of 2007. In a single start, he managed a feat that has never been equaled by anyone. He managed to start last (P22), first (P1), and lead the race at one event. How did he do this? Read on to find out.
Winkelhock had been competent, but unexceptional, driver in the lower formula cars for a while. (Winklehock's father and uncle were also F1 drivers who cumulatively amassed 2 points in 63 races.) Marcus's big chance came when he had a one off drive for Spkyer in the European GP in 2007. As expected, he qualified last on the grid right next to his Spyker teammate. Spyker wasn't known for having a fast car, and they were pretty much the shambling zombie remains of Jordan F1 by now. This was the last season for Spyker before they were sold to become Force India and start to rise up the order again.
Anyway, back to the race…
On the formation lap it started pouring down with rain, the team called him in for full wets and a pit lane start. Since he had qualified last on the grid there wasn't anything to lose with the pit lane start. On those wets he rocketed up the order and took over the lead when everyone else had to pit and the end of the first lap. After that, he continued to pull away and was over 30 seconds ahead of 2nd place by the 4th lap.
But the rain just kept coming down and eventually led to a safety car period. The rain, now mixed with sleet, was so hard that after several cars spun off the track behind the safety car they brought out the red flag. Since Winkelhock was in the lead he was in P1 for the restart. The team gambled on more rain and stayed on full wets, but it didn't pay off. He fell back to 15th place before the car quit on him and promptly caught fire to add insult to injury.
(Winkelhock never raced in F1 again, but he's gone on to be a successful driver, winning the FIA GT1 title in 2012.)
It was bizarre. That race was also the last for American Scott Speed, and his ironic name, in the Toro Rosso car. He was replaced by Sauber's test driver for the rest of the season. Some kid named Sebastian Vettel, I wonder if he ever amounted to much…