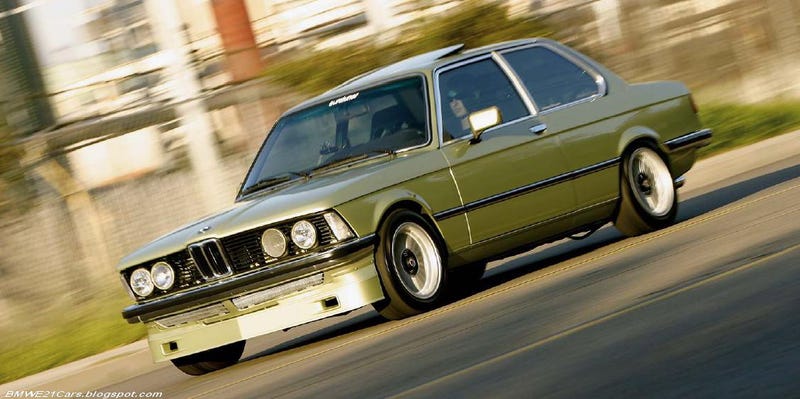 In May of 1975 BMW launched one of the most important cars ever. It started when BMW wanted to replace the old BMW 2002. The car debuted as a coupe only with 3 engine options: a 1.6 (316), 1.8 (318) and 2.0 (320). These were all variants of the BMW M10 I4 engine. Later fuel injection was avalible as well as a new engine, the M20 I6. Fuel injection was available for the 318, 320, and 323i. Also, the 320/6, 320is, and 315 were later launched. The 315 being an economy version due to the oil crisis, the 320/6 a M20 I6 version replacing the 320 in 1979. The 320is was a sportier version of the 320i with a front air dam, anti-roll bars (front and rear), standard LSD, Recaro sport seats, leather shift knob and steering wheel.
When the UK based magazine CAR tested the BMW 320i the said quote "Indeed, the handling and roadholding are of a high order, striking a sensible compromise between comfort and ultimate driver appeal." When Car and Driver tested the car they said quote "To begin with, it's a splendid little car, the whole thing reeks of understated, wedge-shaped go-fast...the vinyl interior is just about perfect...the rear seats are roomy and comfortable. It's surprising how inconsequential such things become when you're in a car that works...it's beautifully engineered and not boring." Also, when Tiff Needell drove it he announced that although the handing was twitchy it was an enjoyable car.
Sadly the E21 is somewhat a forgotten car because of the E30. The E30 was bigger, had 4 doors, was sportier and came with all wheel drive. Despite selling over 1.3 million E21s, BMW sold about 1 million more E30s worldwide.
Like the article? Stay tuned for more.