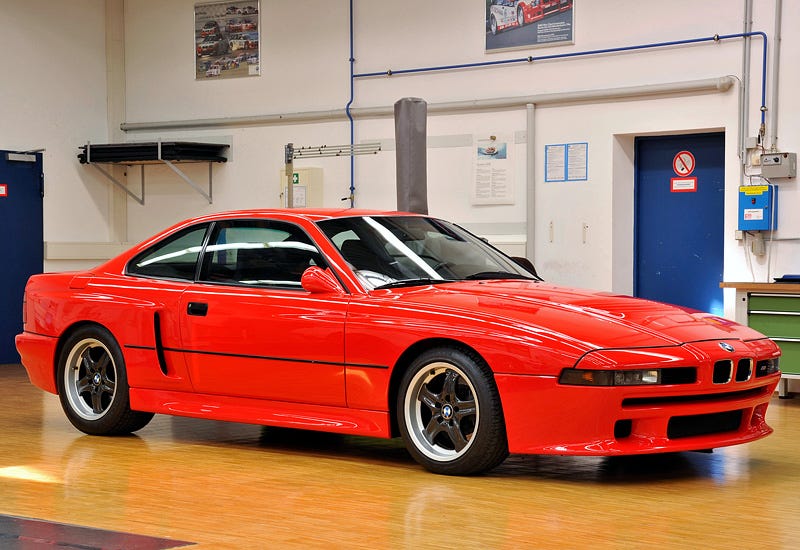 In part 3 of our Labor Day weekend Bavarian insanity, I present you the 1990 BMW M8.
If there's one thing we can learn from this series of crazy Bavarian engineering feats, is that there is no awesome without compromise. Saturday's V16 7 series featured a trunk that was replaced with a radiator, Sunday's V12 Z3 featured ridiculous Front to rear weight distribution, and today's curiosity features a car that necessitates blind luck and two big ones to drive quickly. That's right; the M8 doesn't have one of the 8 series' trademark features, as well as a useful driving accessory: (pop-up) headlights. But the daytime running lights are still there, which would prove to be enough incentive to drive this V12 Ferrari-fighting monster.
Despite its 90's bedroom poster-friendly looks, the standard 8 series was never a screamer, nor a complete or accomplished car. The trouble is, it hadn't figured out what it wanted to be. It looked like a supercar and cost as much as one, but its performance was strongly disappointing. It weighed approximately 2000kgs, and an automatic 850i can be outrun by a modern Toyota Camry with its zero to 60mph time of over 7.4 seconds. Not only that, but even a manual equipped e34 540i sold at the same time as the 8 series and costing much less could outrun the 840ci and the 850ci. Finally, it couldn't be a proper GT car, as its rear seats were only suitable for persons born without legs, unlike say a Mercedes S class coupe.
All these technicalities aside, the 8 series was a stunning and timeless piece of Bavarian engineering and design. The design was athletic, aggressive and evocative of speed, while showing clear BMW DNA such as the kidney grill. The pillarless doors gave the 8 series a swooping side and gave passengers an open-air feel. The driver oriented cockpit was a brilliant execution of BMW's trademark and would still look contemporary if it came out today. The build quality and sheer longevity of the materials is nearly unparalleled and could teach most modern cars a thing or two about interior quality.
Finally, the sheer concept of a 'personal luxury coupe' is so tasteful that its performance could be forgiven.
However, BMW decided to address the performance issue by building an 850csi, a 380hp iteration of the 8 series which by most account, cured performance fanatics' concerns. Not only that, but its 'S' designated engine coded revealed it was in fact built by BMW M itself, thus being the closest thing to an M8.
Or so they thought.
Recently revealed is BMW's secret, one-off M8, a 550hp prototype that could have buried the competition deep in the ground, including one Prancing Horse manufacturer.
Information on this car is extremely limited. The M8 is one of BMW's best-kept secrets ever, and even after its 20 years of secret hiding were broken in 2010, questions from motorsport magazine remain unanswered as well, including performance specs. The car is locked away in the so-called Giftschrank (poison safe), and may be destroyed in the near future as well. However, its 550hp, and the fact it most likely shaved hundreds of kgs over a standard car means it would have no problem trampling a 1990 Ferrari 348 for example, or in fact most supercars of that date.
Clearly, the M8 was a race-oriented prototype, featuring bucket-seats, an interior covered in what appears to be suede, no radio, no window switches or any other creature comfort. It was obviously not road safe or legal, as can be indicated by the lack of headlights. Power was fed through a trio of pedals, as it should be.
This car's biggest legacy is the 6 liter V12, which eventually was used in one of the greatest supercars ever, the McLaren F1.
The project was eventually scrapped because BMW decided that there was no market for an M8, although I'm sure it would have found more than one happy home among car enthusiasts.