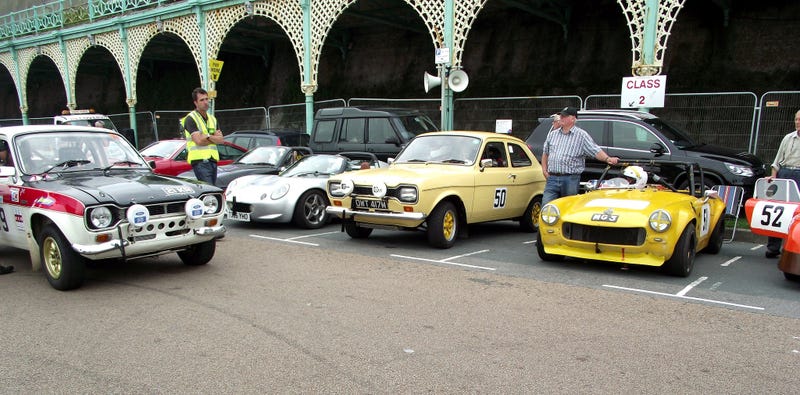 I've put up a brief post before, but they really do deserve something more in-depth. It's a quarter-mile drag event run by the Brighton and Hove Motor Club since 1905. It's run down Madeira Drive in Brighton, a straight of coast road lined with gorgeous Victorian wrought-ironwork. There was some truly awesome machinery present, the majority personal pet projects, all owned by BHMC members. Some stunning variety :)
These two spent most of the day parked next to each other. Great pairing :)

Lots of minis. This sticker-bombed one was particularly cool...
...and this one was probably the most nuts. Not only does it look the business, but it had a turbo'd Volvo 16v in the back!
There was even a mint old Hillman Avenger. Don't see many of them any more, which is a real shame. Great looking things :)
One man and his grinning mentalist :)
This old Riley managed to run a 13.8 on the run I saw. Not bad for a car from 1938...
...and this would be why. That's a twin scroll supercharger about the size of the rest of the engine:
This piece of art was attached to a Lotus Cortina
Some kickass American cars too, my favourite was this badass Plymouth:
"The Anorak"
Lovely little Falcon as well
Couple of Ford GT40s as well:
Loads of great engine swaps:
This one even had the boost gauges built into the original dash. Lovely fitment.
"LS9 Supercharged"
"If in doubt..."
I never saw this poor chap run...
...and this is why. Ouch:
When was the last time you saw an E-Type on drag wheels?
Venerable old pair.
Couple of Frenchies :)
One of which thoroughly impressed my aircraft engineer mate. Check out the gold-lined Lambda sensor and the piping for the engine bay fire extinguisher system. Every inch of this car was engineered to perfection.
And a couple of rare Italians:
One of which not exactly quick, but very cool...
...the other bloody fast :)
Speaking of bloody fast:
But by far the most bonkers car of the day was this old Allard J2. We had a chat with the owner and it's a car full of superlatives.
It's got a 9.25 litre big-block Chevy, running 14.5:1 compression and odd-smelling race-fuel. Socking great drag-radials as well.
Apparently he had a completely different setup for track work with a smaller engine. A paltry 7.5 litres! The best part about it though was that the owner was 80 years old that year :) he said that he loved how each year he got faster when everyone else his age was getting slower.
Legend, and great day :)