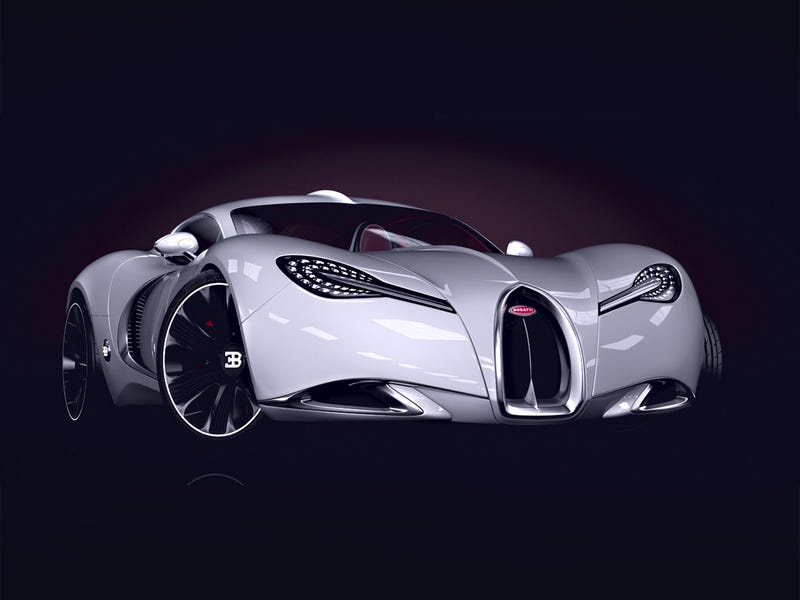 What is a concept? A concept is a design competition. It's a wonderful exercise of pure artistic expression, combined with pure automotive brilliance. And when you combine a historic nameplate and the word concept, the world stands up and takes notice. Now I originally wanted to give you a much more in depth look at this concept by speaking with its designer, but I have been unable to reach him. But his work definitely speaks volumes. I give you the Bugatti Gangloff Concept.
Take in the beauty of this car.
The lines are miles more expressive then the squat little half-moon that is the Veyron. The designers name is Pawel Czyzewski and according to him the inspiration of this car was the 1938 Type 57 SC Atlantic Coupe.
And you can definitely see the heritage in the new concept.
The subtle center line shows off the originals riveted contrustion.
The cars wheel arches gives the car a true form, rather than just a curved body. This car is a million times more of a sensual car than the Bugatti Veyron.
There is even a swash of silver right by the rear wheels but in the concept it acts as an air duct for the rear wheels.
Looking at the two side by side you get a sense of heritage that seems to have been lost with Bugatti as of late.
Yes they have the Legends Editions, but really all they are, are just different paint schemes for the same car. Nothing really changed. In my opinion, this is where Bugatti needs to head. Right now this is only a rendering and Bugatti doesn't have any plans to build it, but god they should!
You can find more of Pawels work here.
Follow me here on Twitter
Check out Sittin Waitin Wishin