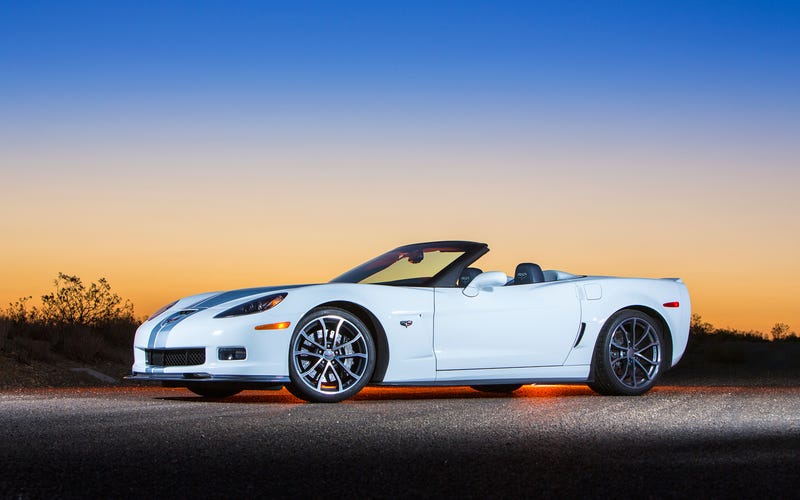 I like convertibles. I also like Corvettes, for all the usual reasons that people like Corvettes. While the C7 Corvette is objectively much nicer than the C6, to me, the C6 427 is still the best.
GM produced the Corvette 427 Convertible for only one year, 2013. It was kind of a going-away present for the C6 before the C7 appeared in 2014. The 427 was essentially a convertible Z06, but with a steel frame instead of an aluminum one like the Z06 and ZR1 coupes. To put it another way, it was a Grand Sport convertible with the 7.0 liter LS7 motor from the Z06.
Some people are hardcore track rats (or people who delude themselves into needing the stiffest possible chassis because they're serious about performance while driving around town) and don't like convertibles. I like convertibles. I don't have any hair to mess up in the wind. Driving a car with an open roof is great. Take a fun car and chop the roof off? I'm there.
There are many reasons why objectively speaking, the 427 is not the best Corvette. It's a little heavy for a Corvette at 3400+ lbs. It has the C6's still-kinda-shitty interior. It doesn't have the aluminum frame from the C6 Z models and C7. It lacks the fancy eLSD from the C7. But it's still kinda great.
Chassis-wise, the 427 is basically the same as the C6 Grand Sport. While still riding on a steel frame, it has the wider track, stiffer suspension, and big brakes from the Z06. It has an LSD. It's got GM's magic Magnetic Ride Control shocks. It handles quite well thankyouverymuch. Take that chassis, add in the drop top, throw in what is probably the best Corvette motor in a long time in the LS7, and you've got a great recipe for fun.
Sure, the C7 Z51 Convertible is probably just as fast, with a much nicer interior and the eLSD, but the C7's Transformer-like taillamps look especially stupid on the convertible, and it doesn't have the widebody C6's lurid fender flares.
Sure,the C7 Z06 convertible has a crazy supercharged V8, wild bodywork, and super extreme performance. But it's also crazy expensive and GM still needs to sort out some reliability issues.
The 427 on the other hand, has a motor that had already been in reliable service for several years before the 427 came around, it's got that great normally-aspirated 505 hp, and basically as an overall package it hits the sweet spot of being slightly insane without being total overkill.
I want one.