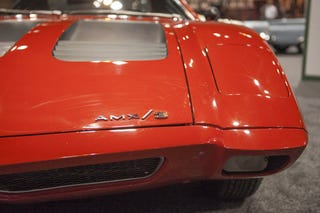 In the wake of the new corvette, the Chicago Auto Show mostly drew crowds towards Chevy's display and media outlets clamored about it. Heck, The only reason I went to CAS was for that specifically (though of course I wanted to see everything else!). Rightfully so, the Corvette was crowded when I went today and attracted loads of attention. This car, however, seemed lonely.
What? This thing was AMAZING. Bizzarini designed AMC AMX/3 prototype from 1970, these things were designed with a mid-engined layout powered by an AMC 6.4L 390 V8, and of course mated to a four-speed. Did I mention it's freakin' gorgeous and has the looks to make Speed Racer jealous?
Why was it so lonely at the show today? I can't tell you, this was a sweet rare car. Plus, it was an AMC, and I have a soft spot for them.
Stole the photo from here, where there is a whole gallery. I'm no photographer so I'll let the pros do that.