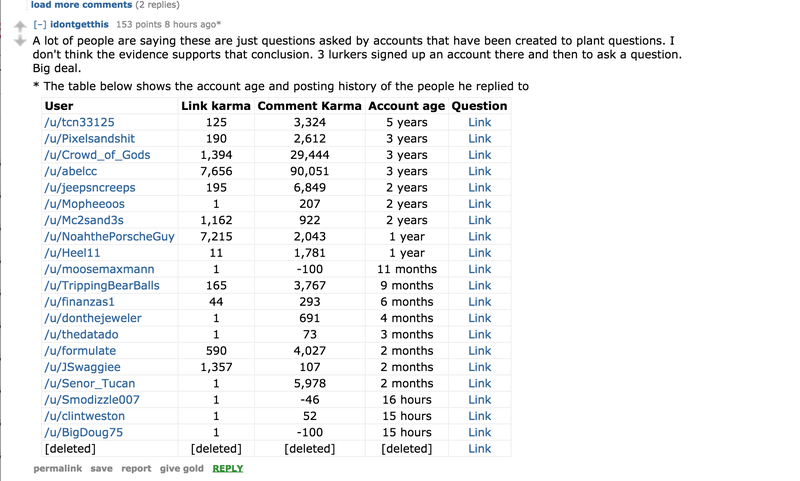 There was alot of insane controversy that Carlos Ghosn's AMA yesterday was staged. Everybody seems to have ignored this moderator post which does a pretty damn good job explaining the situation. Idiots.
"I am temporarily removing the other comment responses to this comment so that people can actually see the real answer. If you're curious about what they all said, there's a snapshot here.
Edit: older posts are reapproved.
---
Talk about cherry picking, christ. Go to the post sorted by old and see whose questions he answers. 4 month account, 2 month account, 9 month account, 5 year account... etc. Plenty of long time redditors got addressed./u/IDontGetThis has compiled this helpful chart showing the account ages.
But more importantly:
NEW ACCOUNT =/= SHILL ACCOUNT. We've had to go over this in /r/IAMA many different times. We've asked the admins to investigate claims like this a few times and the answer is always the same. The OP probably tweeted out a link to their post and the people who are interested enough to follow Nissan on Twitter were interested enough to come here to make an account and ask a question.
Here's a great example where the exact thing happened in Alice in Chains' AMA
Applicable quote:
If this really was a PR guy, the account would more likely be 25 days old, just like the [Nissan] account. They'd make all of their accounts at the same time. It makes zero sense for them to make a bunch of fake accounts the moment of the AMA, especially when they have a HUGE selection of positive questions to pick from within the first 20 seconds of the AMA.
Doesn't it make so much more sense that users would follow the guy in from Twitter, instead of the company plotting to plant some inane questions at the risk of a huge amount of bad PR for getting their post removed?
/r/IAmA is one of the main ways that new users are brought to Reddit. They make an account to ask a question and then stick around for a while. So good work, everyone. Excellent work making a great first impression by harassing them."