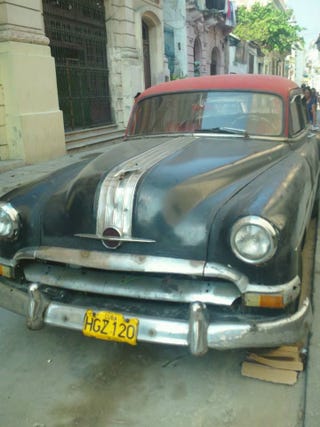 Hey Oppositelock, I heard you like cars so this is a happy post just for you. Cuba has some of the most interesting cars in the world. Something about an embargo or pish-posh, (Castro, what's that?), it turns out they haven't been getting many imports in recent years. That's why Cubans have been driving and repairing the same cars for decades, resulting in some of the sweetest rides on the planet. Yes, a few are beat down, but the character is remarkable. I took these photos in 2013 and present to you: the cars of Cuba.
How one taxi driver installed a CD player into his 1950's automobile
Here's a video of a taxi ride through Havana. Excuse my terrible Spanish. I promise I've been practicing since this trip, and have also been improving my cinematography!
I admittedly don't know much about cars, so perhaps you can play "name that model". Hope you enjoy!
Kat Vallera - NomadiKat Travel Media
Author of the book Around the World in 80 J's, now on Amazon
Check out more travel photography by liking NomadiKat on Facebook