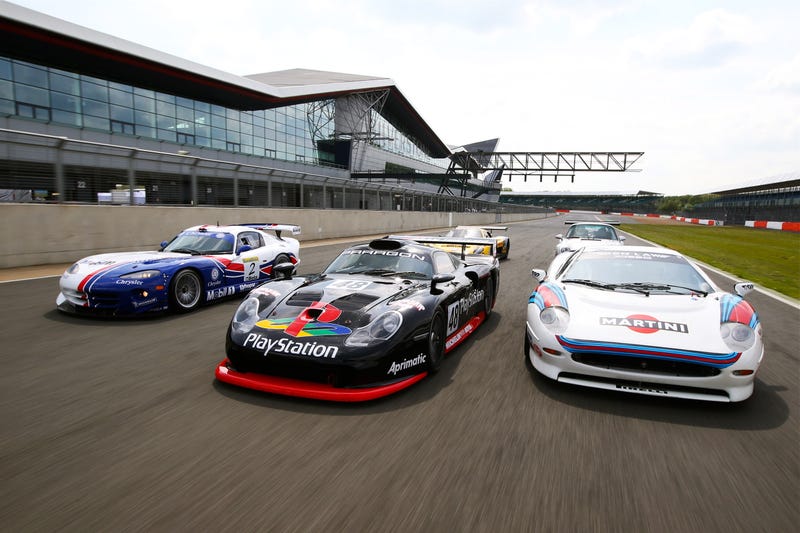 During the mid 1990s the endurance racing world experienced a renaissance in production based GT racing. The long rein of Group C was over and nearly street-able sports cars were leading the pack at the 24 Hours of Le Mans. Perhaps the most exciting thing about these cars was the diversity, cars from Germany, England, France, Italy, United States, and Japan were competing with front, mid, or rear engined cars with anywhere from 6 to 12 cylinders. So have a look at different models that raced in the GT1 category at Le Mans.

1994
Dodge Viper RT10 -12th Overall

Venturi 600 LM -20th Overall

De Tomaso Pantera GT1 -21st Overall

Ferrari F40 LM -12th Overall

Dauer 962 Le Mans -1st Overall

1995

McLaren F1 -1st Overall

Nissan GT-R LM -10th Overall/ 5th in Class

Toyota Supra LM -14th Overall

Honda NSX GT1 -23rd Overall

Bugatti EB110

Jaguar XJ220 -28th Overall

Chevrolet Corvette ZR1 -39th Overall

Porsche 993 GT2 -19th Overall

Lister Storm -19th Overall

1996
Porsche 911 GT1 -2nd Overall/1st in Class

Chrysler Viper GTS-R -10th Overall/8th in Class

SARD MC8-R (Toyota MR2) -24th Overall

1997
Nissan R390 -3rd Overall/Class

Panoz Esperante GTR-1 -7th Overall/Class

Lotus Elise GT1 -35th Overall

1998
Toyota GT-One -9th Overall/Class

Mercedes CLK-LM -43rd Overall

Porsche 911 GT1-98 -1st Overall

As you probably know GT1 transitioned a more prototype class, and GTS moved into fill the upper end GT gap. FIA continued to race GT1 outside of Le Mans, but that's a list of another day.