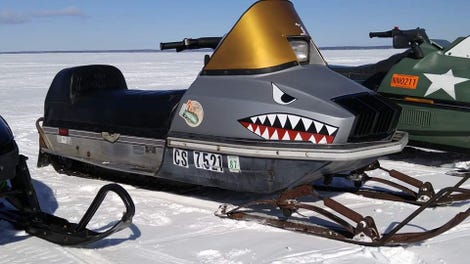 Some of you may remember a post back in the Spring called the Cheap Car Challenge where a group of guys purchased a Conquest, Merkur and Camaro for less than $1000 each and built them to compete against each in a series of real world challenges on the street. You may also remember that there was never a follow-up post...because it was a complete FAIL. Turns out you can't build a (road legal) car within that budget and expect it to live very long with excessive boost, nitrous and some spotty timing. Or we picked the three worst cars to mod, whatever, I digress.
After a lackadaisical summer on the local lakes and the thoughts of rod-knock and nitrous backfires long gone, a buddy and I were sitting at a bar when insanity genius struck.
"Bro, winter's coming. We should do a cheap snowmobile challenge!"

"Nah man, we should do pitbikes or something, sleds are stupid"

"Don't be sad bro, sleds are awesome, and so cheap on CL. We're doing this. I'm texting Mike to see if he's in"


*texts Mike*

*Mike's response* "SO IN! Drag Race, Longest Catwalk, Highest Ski-Lift, Biggest Jump.... YAAAAAHHHH!"

And like that, the Cheap Sled Challenge was born.
Rules were written up shortly after; sled purchase price must be less than $300, repair/mod budget is unlimited, but sled must maintain stock suspension, number of carbs, etc. Same rules that Lucky Thumb and other MI ice oval organizations use. In hindsight, there should have been a limit on sled age, but leaving it the way it was has brought some interesting competition to the table. There are twelve sleds total ranging from 270cc-600cc's; 1970-1996 with all variations of suspension and condition.
List of sleds entered:
1971 Massey Ferguson Ski-Whiz 500SST
1970 Polaris Mustang w/ '68 hood
1994 Ski-Doo Formula STX 583
1996 Polaris XLT 600 - Sunoco Edition
1972 Mercury Lightning - 503 Rotax
1973 Johnson Reveler Turbo - Mitsu 16g & Custom Exhaust
1991 Polaris Indy 488
1979 Arcitc Cat Panther 5000 - P-40 Warhawk Livery
1979 Arctic Cat Panther 5000 - less seat and brakes
1979 Arctic Cat Lynx 2000 - 275cc Suzuki
197? Ski-Doo 440 - "Beautifully Majestic"
1990 Something or Other - ?????
Of course a big part of this competition relies on the weather, you know, snow and ice and all. Mother Nature must be on the rag this year because she's not giving anything up to those of us who enjoy winter sports. The date has already moved once from mid-January to this coming weekend and for once the conditions look favorable for racing. The event will be taking place Up North at a lake that's famously known for it's celebration of Bud Light in the Summer and Tip-Up fishing in the Winter so if you happen to be up there and see twelve relics belching smoke and rambling across the lake, give us some sympathy that we're out of our goddamn minds.