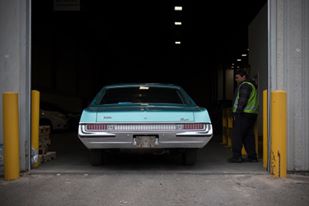 My beloved Newport is currently in a crate on a boat headed to Bremerhaven Germany to meet its new owner. Now it's time to find my dream car.
Between the Chrysler sale and a year of saving, I have about $15,000 squirrelled away for the Corvette. It has to be a '69, it has to be a four-speed, and it has to be a coupe. I'm well aware that while $15k is a lot of money, it's not a lot to buy a 1969 Corvette. The car I buy will be a project. I'm fine with doing work on the car myself but I really want to find one with an intact frame/birdcage. Paint doesn't matter to me, interiors can be bought and engines can be fixed.
Basically, I'm looking for a 1969 Corvette with a solid frame for $15,000. I've already found this one with a rusty frame for $7,500 US.
I also like this partially completed resto but the auction ends in 1 day and that's not enough time for me to get a guy to inspect the car for me.
If you know anyone selling a car that fits the bill, let me know, I'm willing to drive anywhere in North America to pick it up with a trailer.