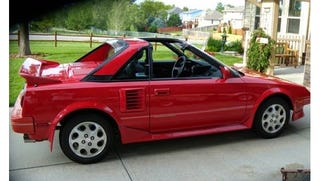 The first generation Toyota MR2 was launched in 1984 after a significant development cycle that included racing legend Dan Gurney tossing prototypes around the curves of Willow Springs Raceway in California. The resulting wedge shaped car was a rare combination of fast, fun and frugality.
Today it is unusual to find an original condition MR2, particularly the zippy supercharged version. Find this 1989 Toyota MR2 Supercharged offered for $4,500 in Millard, NE via craigslist. Tip from Andy L.

Tucked between the driver's seat and the rear wheels is a 1.6 liter 4A-GZE supercharged inline-4 that was rated at 145 horsepower and 140 ft-lbs of torque. The little engine could propel the 2400 lb MR2 from 0-to-60 in about 6.5 seconds, not at all bad for 1989.
Inside this one looks good, in fact, the entire car looks really nice for a 125k mile MR2 and would probably make a great daily driver.
See another mid engine runabout for less? tips@dailyturismo.com
Originally published as 5k: Oragami Doorstop: 1989 Toyota MR2 Supercharged... on Daily Turismo.