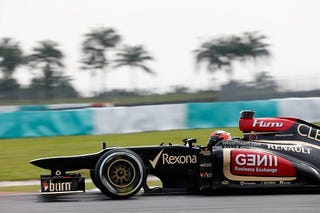 Lotus has been shrewd, it could be a coincidence but they seem to have gone into this season knowing of course that a 2010 chassis was used for Pirelli testing and designed the new car with characteristics of the 2010. Its not like Pirelli gave them data, but its apparent that cars with certain characteristics and huge amounts of downforce are suffering. I suppose with no data you could assume the tyres would be optimally suited for the test car, I don't think it guaranteed they would be better off than the other cars but in any case its all kind of worked out that way. Its more complicated than this but basically we can expect the other teams to make this into the double diffuser ect.... of 2013:
Top teams Red Bull and Mercedes want Pirelli to rush last year's tyres back into service.
According to Germany's Auto Motor und Sport, the two outfits are arguing that it is not fair that the tyre supplier's 2013 products seem to be penalising the best cars.
Indeed, while in the past high downforce tended to minimise tyre wear, the opposite phenomenom is apparently occuring now, and according to Red Bull and Mercedes that also poses a safety risk.
Correspondent Michael Schmidt said: "Adrian Newey has made the direct link between downforce and wear."
World champion Sebastian Vettel confirmed: "The better the car, the worse shape you're in."
Another growing gripe is that Lotus has gained an unfair advantage by supplying its 2010 car - the Enstone-designed Renault R30 - to be used as Pirelli's exclusive track testing car.
"It's obvious that the Pirelli tyres are designed for this type of car," Red Bull's Dr Helmut Marko is quoted as saying.
"The Lotus of today has the same DNA."