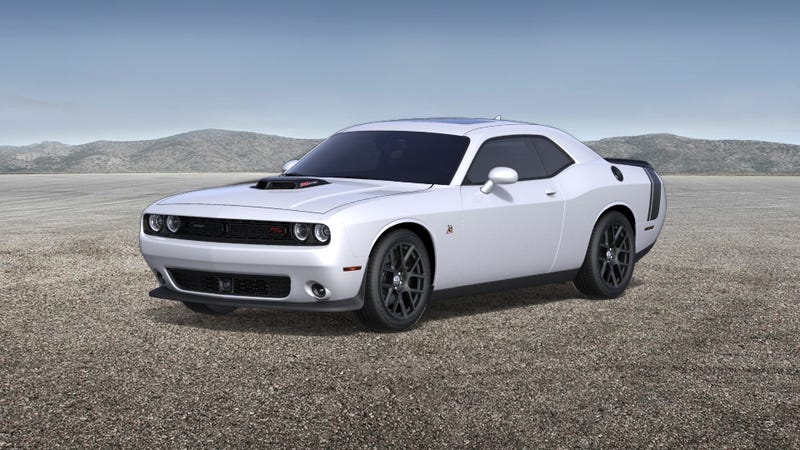 Wow, muscle cars have been getting real expensive lately. Oppo I went ahead and built muscle cars from the 3 major brands. These cars are the GT Premium, Challenger 392 Hemi Scat Pack Shaker, and Camaro 2SS. Now these aren't the halo muscle cars like the Hellcat, GT350, or Zl1/Z28. I built these to show the price of a nicely optioned muscle car that an average joe would be buying as a daily, not a track or extreme performance based vehicle.
The prices of these cars after optioning them with leather, nice audio, wheels, appearance packages, and technology, these cars got out of hand fast. The Challenger had the highest starting MSRP of $42,595 for a 485hp land yacht, the Camaro started at $37,305, and the Mustang started at $36,395. None of these cars come optioned very well even with them being the highest trim levels of the "normal" V8 muscle cars, thats kind of surprising for these prices.
The Dodge Challenger after adding all normal amenities a person would use on a daily basis came out to a whooping $50,270, or about $709 a month according to Dodge(on a 72 month loan with $5k down). I don't know about everyone else on here, but I don't think an average Joe can afford to drop $700 a month on a car. This Challenger only had the Technology group, Driver convience group, interior Scat Pack appearance, and Harman Kardon sound system. These options added about $7,000 to the base price of the car, for honestly not that many things.
Next up, the Chevrolet Camaro. With a starting MSRP of $37,305 this car got expensive fast. I added an appearance package, Short throw shifter, better suspension and brakes, performance exhaust(because for any of these cars one way or another you're adding an exhaust), Recaro seats, and a sunroof. Now this is a very well optioned Camaro, it will have a nicer interior and drive more aggressively then most other performance cars, but you are paying a price. The final MSRP came out to a ginormous $55,395. Yep, these options added $17,095 to our build, thats the price of a respectable used car. Now either the Camaro comes optioned very poorly even in the highest trim level of the SS, or these options put it into a whole other category of performance, but I'm guessing its the latter rather then former. Anyone who spends $55k on a SS deserves to have their license taken away, thats corvette money/Z1 money.
Finally, the Ford Mustang with a starting MSRP of $36,395 it is the cheapest of the bunch. On the Mustang I added a black roof, the 401A package(audio, blind spot, etc..), Performance Package, and Recaro seats. The total MSRP is $43,875, $11,520 less then the Camaro, and $6,395 less then the Challenger. The Mustang is in my opinion better equipped then the challenger, and slightly less equipped then the Camaro(it will win in brakes, and suspension). The Mustang is also in my opinion the nicest looking of the bunch, it appears to be the most expensive to the average person.
For reference a 2000 Mustang GT started at $21,205 which is equal to $29,300 in 2015 dollars. The 2015 Mustang GT(base) starts at $32,395 about a 10% increase in price over the course of 15 years. The Camaro SS of 1997 was $20,115 equal to $29,820 in 2015 dollars. The current base model SS starts at $34,500 a 15% increase! The Dodge Challengers most recent model year before 2008 is a large gap of time so take this information with a grain of salt. It was hard to find an exact number, but I kept finding them in the $27-3200 range so we will go with $3200. From 1974 to 2015 that $3200 is now worth $15,444 wait what? Why does a Challenger V6 start at $26,995? And if you want a base V8 it is $31,995 for the Hemi that no one wants. Basing the price difference off the R/T base model the Challenger has increased 107% in price, now if we compare the $3200 to our Scat Pack MSRP it is 175% more expensive in 2015 to purchase.
So what I want you to take away from this article is, wow muscle cars are way more expensive. I also always thought the Camaro, Challenger, and Mustang were all in the same price range, but I guess I was wrong. Is the Camaro really $11k better then the Mustang? Or is the Challenger really $6k better? The prices for the Camaro don't even take into the account the 2016 price increase which will probably turn it into a $60k car. So Oppo, which of these three would you choose if you had to use your own money to buy them? Is the Mustang the best option? Sure its the slowest, but with how much your saving and how many mods are available it wont be for long. Is the Camaro the one you'd choose? You must like the appearance, or feel its the best vehicle. Maybe you'd even choose the Challenger, tell me why in the comments! Also how do you feel about the price of cars increasing so much over the years?(p.s. yes my calculations all included inflation)