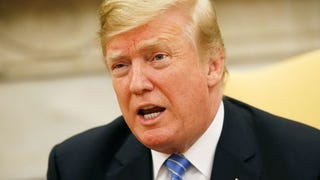 Oh, where do I begin? There's so much I need to say about 45 and his team.
First, let's start with this Russia probe.
Wait a second, I'm not a 48-year-old man on Facebook. Where am I? What curse was possessing me? I was just about to conclude that rant by saying that every car should come with a manual transmission, but the spirit left me and I am normal again. So, let's talk about my trip to the nice Goodwill, while y'all are here!
I found these Sperry's, which were in great shape, a light tan, and in my size! How lucky am I? This was just the icing on the cake. Before that, I found a Master's polo and a vintage Patagonia long-sleeve polo. The two shirts I'm hoping to flip, while I'll probably hold onto the shoes. Grand total for the three things? $19.05! I hit the Goodwill jackpot today, and it wasn't even a planned trip!