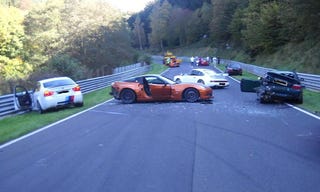 It's every drivers' worst nightmare: busting up your pride and joy on a track day. In today's economy with modern insurance policies, you'll have a snowflake's chance in hell of making a successful claim on any incident that occurs on a race track. This reason alone deters many would be fast-lappers from the fun of track days, but insurance just for this kind of thing does exist. It's actually not a brand new concept either and the guys over at MotoIQ did a great write up on it with an emphasis on NASA's HPDE.
Check out the article here
Lockton Motorsports: HPDE Insurance
Edit: Given the valid discussion about alternatives to taking your prized sports car out on the track if money doesn't grow on trees at your home. I was going to mention my other article, but given it only pertains to the east coast I left it out. Plus I didn't want to cross-post a repost that I was posting......