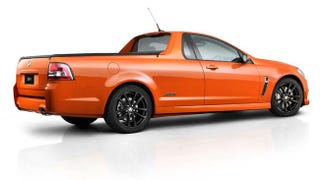 The Holden ute is about to be retired forever, after clocking up almost 65 years on Australian roads.
The Aussie icon has had its sales - and hopes - crushed by a flood of pick-ups imported from Thailand. One in five of all new vehicles sold so far this year comes from Thailand, second only to Japan.
Australian-made cars now account for less than one in 10 of all new vehicle deliveries in Australia; local production is at its lowest level since 1957. Holden Commodore ute sales are down by a staggering 31 per cent year-to-date, the lowest sales of all time. The sedan and wagon are up 15 per cent since the new Commodore arrived.
Holden cannot justify the investment in a new Commodore ute because buyers have shifted to Toyota HiLux-style pick-ups - most of which are made in Thailand, where production labour rates are one-fifth of Australia's.
Enthusiast buyers have less than three years to decide if they want a new Holden ute before it is relegated to the history books alongside arch rival Ford's Falcon ute by the end of 2016.
We have entered the end times.