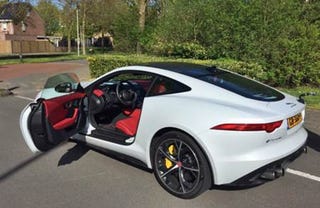 I know what it is and what it competes against, but my brain says, "No." The F-Type is in this alien place between a sportscar and a luxury sport coupe while performing like a modern muscle car. Think M4, C63 Coupe, or RC F that benefits from a sportscar footprint. Or like a Corvette or AMG GT with added heft for better comfort, touring, and that feeling of just being "substantial" in the way it sits on the road. Or like a Camaro SS or Mustang GT if they had of gone to a Montessori and purists weren't a thing.
It has such a muscle car mentality but it's too luxurious. Like a sportscar but with that perfect weightiness for long tours. Like a luxury sport coupe made to be smaller than a Corvette. Even the pricings and specs seem to always keep the F-Type in its own special segment throughout the range and options, all while making it feel familiar instead of foreign.
The execution of the F-Type is completely, all together, and entirely intriguing!
You know what it is?! It's like if Infiniti made a new vehicle to sit above the G37 Coupe that kept the 370z layout instead of adding backseats. In my silly mind this niche sportscar/luxury coupe segment would progress as: 370z/Successor - Jaguar F-Type - AMG GT.
Is this making any sense?!! I can't even explain this right now. It's unique without being different, yet special despite its familiarity.