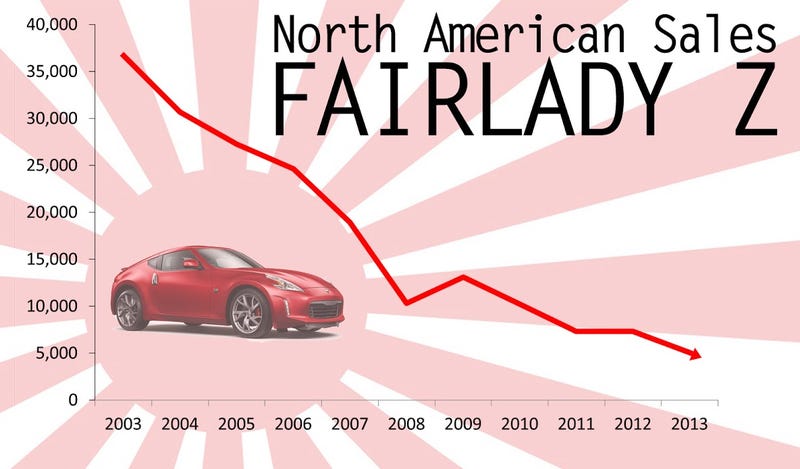 Visually the car had an appeal that was hard to deny. It had, in the words of Jeremy Clarkson, 'a long proper bonnet.' The sloped rear three-quarter gave way to an aggressive set of rear hips with wheel wells that begged for deep chrome lips.
It was and still is a beautiful sports car. And while pretty will get you in the bedroom, performance is what seals the deal.
And that is where the modern Fairlady comes up short. Even boosted I was never satisfied with how the Z performed. Eventually I would replace it with a Corvette.
The Z33 was a beauty to look at, but it was often bested by many lesser cars on the track. The Z has always struggled with a weight problem. And unlike her chunkier cousin, the GT-R, the Z doesn't have gigabytes of computers, an advanced all-wheel-drive system and gobs of twin-turbo torque to overcome her weight.
The Z is (still) powered by a dated, yet fully-updated naturally aspirated VQ engine.
Why has sales of the Fairlady plummeted and what does this mean for Nissan?
Earlier this year Nissan launched an effort to breathe life into their Nismo brand. They're also running an Altima in the Australian V8Supercar series. Do these moves mean Nissan intends to push their on-road performance or is this more about marketing message?
The GT-R price increases continue to put it further out of reach for most buyers, the 370Z is competitive with cars from 2005 and the newest Sentra SE-R has been replaced with a 'sporty' R trim aonly available with a CVT. The product seems to indicate Nissan has very little if any inclination to focus on performance.
Meanwhile, Carlos Ghosn sits atop his executive perch demanding Nissan North American double its sales in 5 years.
I know - sports cars don't equal growth
I'm not insinuating that new low-volume performance product or even an updating of current offerings will directly help Nissan North American meet its growth aspirations. What I am suggesting is that Nissan pause and consider its current position in the performance market.
Toyota did something similar and that resulted in the FR-S.
According to sales data (April 2013) Toyota has sold 6,269 FR-S models in four months. That is more 370Zs than Nissan will sell all this year. Last month the FR-S also performed better than any other model in Scion's lineup. Does that mean there is a market for a small, fun, afforable car?
This raises yet another question - Does Nissan need to compete with the FR-S? In other words does Nissan need to kill the Fairlady Z and bring back the 240?
OK. Let the debates rage on! See you in the comments.
If you like what you read here, follow me on Twitter. If you don't like what you read, move along.
Actual sales numbers. 2013 numbers projection based on current sales (-37% from 2012).
| | |
| --- | --- |
| | Fairlady Z Sales |
| 2003 | 36728 |
| 2004 | 30690 |
| 2005 | 27278 |
| 2006 | 24635 |
| 2007 | 18957 |
| 2008 | 10337 |
| 2009 | 13117 |
| 2010 | 10215 |
| 2011 | 7328 |
| 2012 | 7338 |
| 2013 | 5050 |