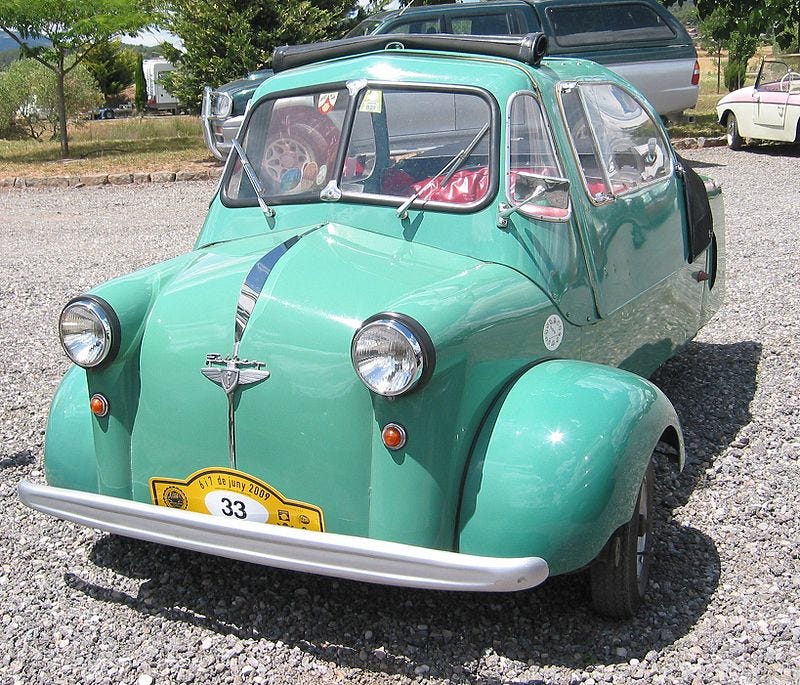 One of the most whimsical, in a wide field of whimsy, microcars of the post war years was the Felber Autoroller, a frog-like three wheeler from Austria. Austria isn't really known for its cars, but with names like Ledwinka, and Porsche, and marques like Steyr-Puch and Gräf & Stift, it's made some important contributions to automotive history. The Felber most certainly isn't included on that list, but it was a clever little machine anyway. It was the brainchild of Ernst Marold, a young former prisoner of war, and son of a mechanic, who had always loved cars. While in a POW camp, Ernst, like a bunch of enthusiastic young men at the time, thought that when the war was over, people were going to need cheap transportation. Especially in Austria, where cars had never been abundant. The only auto manufacturer in the country to pick up production after WWII was Steyr-Puch who concentrated on trucks and licensed built, pre-war designed Fiat Topolinos.
So, when he returned home still in his early 20's, Ernst got to work hacking together a little prototype using scrap metal from his dad's repair shop. After about seven months he had a primitive trike powered by a 300cc motorcycle engine. It was rough, but it was a start. He then spent the next year refining it with his brother, Otto. They built a strong, rectangular tube frame with a backbone made out of old bazookas (!), and fitted swing arms with leaf springs to suspend the wheels.
They then stuck a 300cc ILO stationary motor with a motorcycle three speed to it and began testing. They made a rounded, doorless body out of aluminum sheets and nicknamed it the "Murli." They took it all over the country testing it in every condition, even crashing it in the mountains, and it performed well. It was stable and light and with some tweaks, seemed ready to go. They just needed a manufacturer. They found one, at the end of 1951, in Felber, a fairly renowned builder of sidecars and teardrop trailers.
Motorcycle production was barely a trickle at the time and Felber could use a new source of revenue. Ernst designed an entirely new car that was an evolution of the Murli. It also used a tube frame now with a flat floor.
The leaf springs were replaced with coils over telescopic shocks, and the swing arms remained. It was powered by a 350cc DKW motor that would take it up to 100 kph. With its low center of gravity and relatively sophisticated suspension, it apparently handled like it was on tracks.
They also refined the body, giving it a split windshield, headlight, and cabrio roof.
Felber was delighted with the result. The car was durable, fairly simple to build, and was going to hit the price point they were looking for.
When it went into production at the beginning of 1953, it got a fancier body with an airplane cockpit like canopy, and a second headlight. And, as you can see in the top photo, they anticipated the need for a transparent A pillar. The Felber was truly ahead of its time. It was also now powered by a slightly more powerful 15 horsepower 400cc Rotax two-stroke motor that was a bigger version of their 350cc stationary engine built specifically for the Felber. It also had brakes on all three wheels and a 4 speed transmission with reverse.
It had a pretty unique three seater layout with a small child's seat behind the driver, and a normal sized seat next to that. So your passenger was kind of offset in back of you which must have made conversing annoying.
Felber built about 5 a day for a while and they attracted quite a loyal following. They quickly became like national treasures. A Felber owner's club formed and they would gather in Vienna with their cars. They even brought a bunch of their cars to Ernst Marold's wedding when he got married in 1954 to escort his limousine away from the church. I've never heard of anything like that before, but here's the picture to prove it.
The little cars weren't fast, but they did compete pretty successfully in hillclimb events in the motorcycle with sidecar class. I guess only having 15 horsepower doesn't matter much when you can turn on a dime. The car was wider, 59 inches between the wheels, than it was tall, just 49 inches, and with the 2 wheels in front trike layout, it would take a tornado to tip it.
In 1954 the company sent 10 Felber chassis to famed coach builder Hofmann & Moldrich who fitted them with these cool, streamlined egg-like bodies.
I'm not sure if the improved aerodynamics made them any faster, but they sure looked sweet and much more like a normal car. Relatively, anyway.
By the end of that year, Austria opened its borders to car imports, and sales of Felbers died after only 400 had been built. The poor Felbers were forgotten as quickly as they had been embraced.
The company switched to distributing microcars like the Isetta and Heinkel Kabine, and the cool Autoroller vanished into obscurity. Later, Ernst would run the company as it became Austria's largest manufacturer of industrial kitchen and laundry equipment. It actually still exists today as part of Electrolux. Unfortunately the name fared better than the cars as only about 5 are known to exist today. All that hillclimbing really did a number on them apparently.
Here's Ernst with his remarkable little car.