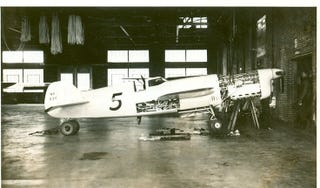 Menasco Motors Company built inverted inline-4 and inline-6 cylinder engines in the golden age of aviation, the 1930's. Al Menasco had no problem building something custom as well. That meant you could get a factory race engine for your airplane. The real fast guys had a supercharger to go with it. This is the Chester 'Goon', with 70 inches manifold pressure crammed into a five-foot-long, 8-liter inline six. In the late thirties, any aircraft engine spinning over 2,500 rpm was a big deal for realibility. This sucker spun at over 3,300 in race trim pushing 450hp. Winning the National Air Races in 1939 at 260+ mph netted $9,000 ($154k today)
All engine and a gas tank.
Eventually, WW2 arrived and they concentrated on their core business of landing gear systems and other smaller diversities. Eventually, Menasco became the company that made the Space Shuttle landing gear. It's now part of Goodrich Aerospace.