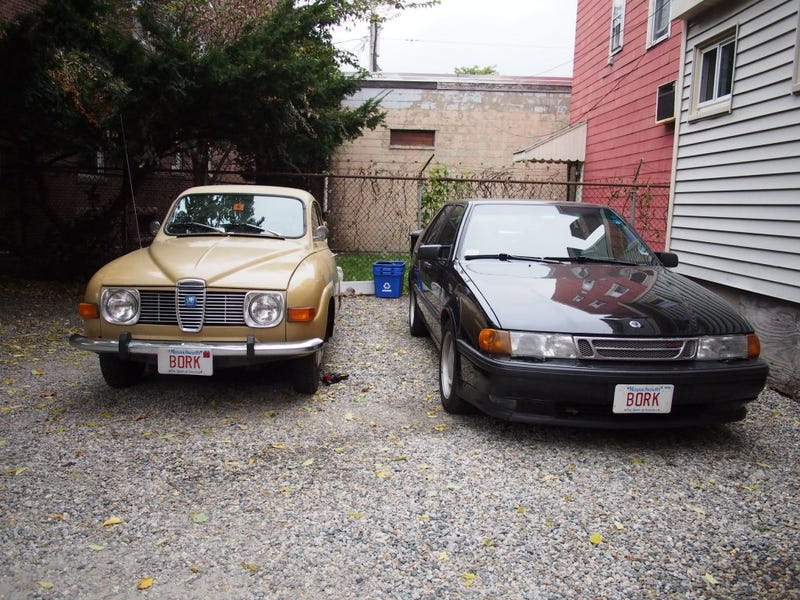 I wasn't too dismayed when I saw Steve Lang point out that Saabs were auction poison, as the high-volume risk-averse nature of auctions really isn't suited for this kind of hipster bait. Some of us, though, can't or refuse to help our Stockholm Syndrome, but the no-longer recent demise of the company still casts a shadow over the experience of owning a Saab. If you're one of us koolaid-guzzlers feeling antsy about your Saab, or are tempted by some quirky Swedish steel but are wary about parts and servicing, here are five tips that have made my post-bankruptcy Saab experience more tolerable. They can be applied to pretty much any discontinued or orphaned car, so use as you see fit.
1. Find a local parts guy

Photo credit: Vands Auto Dismantlers
The morbid upside of plunging used-car values and easy totaling of crashed cars is the increased availability of cars being taken apart for their parts. Some general and specialized junkyards do a brisk business in Saab parts, but those can be few and far between. Living in the Boston Area, I'm lucky enough to know a few nearby Saab fanatics with big basements and photographic memories, and they've been my go-to people for things like bodywork and electrics that break once in a blue moon but are still exorbitantly pricey if purchased new.
2. Find an experienced Saab mechanic
When I bought my first Saab, this was the sight that greeted me when I pulled into the lot of ABJ Auto Repair for a post-purchase inspection. It needed some work done right off the bat, but I knew I was in good hands when I saw what other cars the shop was working on at the time. As a bonus, their head mechanic has a 9000 with slightly higher mileage than me (at the time, 335k vs. 205k), so I knew that he'd seen everything that I was going to see and could flag them as they came up.
2a. (wintry climes only) Find the rust
Image courtesy Jalopnik; this is an extreme case

Saabs have a reputation for being great in the snow, though it was born of a time when FWD was a relative rarity, and there's nothing inherent in a Saab that can't be matched by any car with a good set of snow tires. Unfortunately for them, that also means moisture, salt, and corrosion; even Swedish steel will rust after many salty winters. I've turned away from many 900s that drove fine but had terminal rust problems in places like chassis rails or suspension mounts. For more manageable issues, like door bottoms and rear wheel liners on the 9000, be prepared to suck it up and either pay the body shop or do it yourself, properly. Alternately, don't do as I did and get blinded by the Saab mystique before inspecting the thing properly.
3. Find a good internet forum
This is true of just about any car you own, but an online community is an invaluable source of information when you need it and commiseration when you can't find the information. The three that I use are saabnet.com, saabcentral.com, and saabscene.com.
4. Find the meets
Larz Anderson Auto Museum near Boston has an annual Swedish Car Day in the fall, where Saabs (and that other brand) of all vintages gather, and owners swap parts, stories, and plans. There's a big one on the East Coast in conjunction with Imports@Carlisle in Pennsylvania, and the national Saab Owner's Club rotates its annual meets around the US. Most places in college towns and big metro areas, sometimes in conjunction with a generous mechanic or shop, will have some sort of periodic meet-up.
5. Find your own road
Lastly, just drive the darn thing! Whether it's a long road trip to stretch the legs and exercise the turbo of a 9000 Aero, or an around-town jaunt in a classic 96 to bait the tourist cameraphones, remind yourself as often as you can just what first drew you to a Saab (or Saabs) in the first place.
I still have my 9000, by the way. It's 19 years and 233,312 miles young. Here's to the next moon shot, and whether NASA or I get there first.