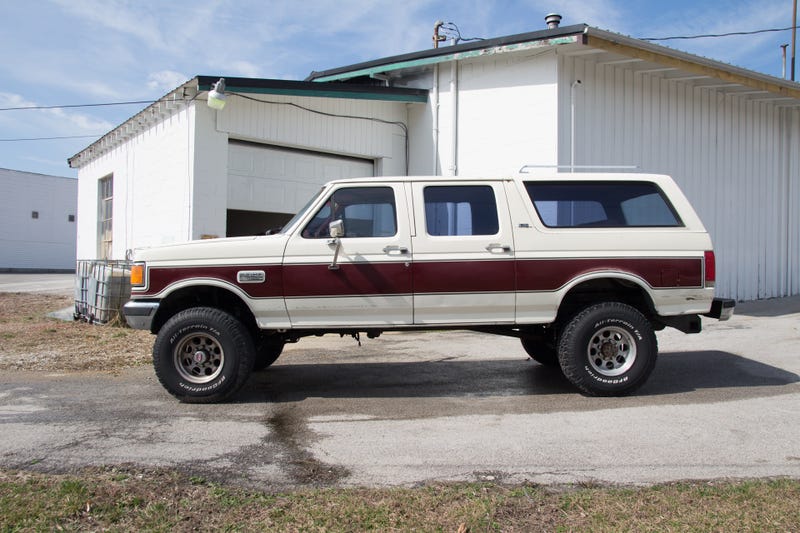 I have a 1989 Centurion conversion 4 door Bronco. 5000 were made in total. Centurion (conversion company) took an F350 cab-chassis, and a new Bronco back half and made it into a 4 door Bronco. 460 big block, 1 ton axles, 4x4. Top comes off just like a regular Bronco. Originally a California truck, I brought it here just a few months ago. I believe I was the first person to drive it in snow, so it's only seen one winter. (It did great, 4 wheel drive works without any issues. Pulled several stuck cars out of the snow in Bowling Green.)
Just over 86,000 miles, not sure if it's turned over, but I doubt it. New tires less than 500 miles ago. Runs great, but may have an issue with the transmission (possibly torque converter). Has an intermittent stutter.
Interior is in good shape, except the front seats. They're torn and need to be re-done. Dash has one, approximately one inch crack. Carpet has some stains, but is in overall good condition for a 1989. New shocks and steering links/ball joints approximately 500 miles ago. Has rust on the roof at the joint of the two bodies. The conversion company used a lot of filler to smooth the joint, and the California sun baked and cracked it. Paint has faded/peeling clear coat in some areas, and there are a few dents and dings. No major rust underneath, just some surface rust in places.
$5000
(Ad copied from Craigslist)