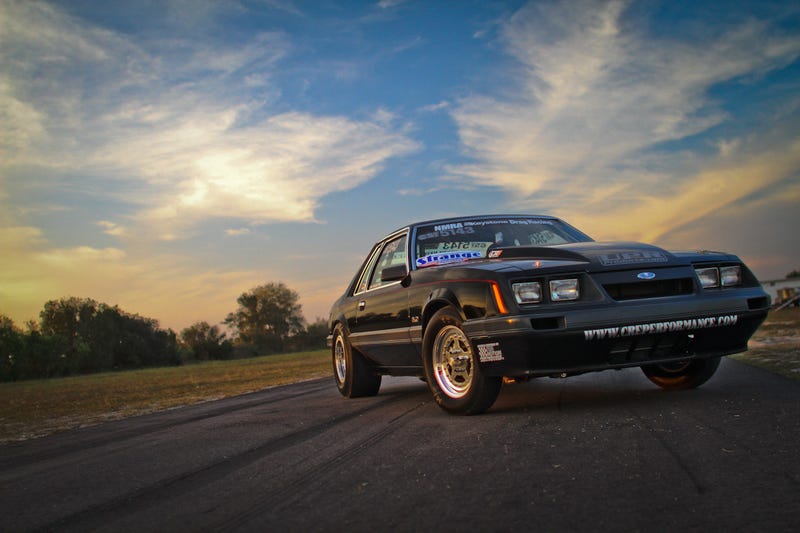 Your birthday is coming up, and instead of buying you another tie that you're never going to wear, you're wife is secretly going all out this year with either a Fox body 'Stang or a 3rd gen Camaro. What car do you hope to god she chooses?
Last weeks rivals saw 67% of the voters opting for big American muscle over the smaller, lighter European offerings...The wildcard Honda Odyssey surprisingly was met with zero love.
She's looking at the original Fox bodies that roamed the Earth from 1979-1993. She could care less for the Fox-4s that was an updated Fox that came later (1994-2004) since she thinks those are too feminine for you.
Your wife notices this 1979 Mustang Craigslist ad that says it's a "One-Owner, Minor Water and Fire Damage, Ran When Parked, No Title As-Is"
She decides to back off and do her research first. These 'Stangs were the jack of all trades. They came in notchback, hatchback and convertible forms. They also came in a slew of trims that hurts my eyes when I look at them all, but notably she's looking at the GT, SVO, Cobra, and Cobra Rs.
The 1984 SVO
This Mustang is Bad-Ass. It was a rebel without a cause. Forget the V-8 and give me the straight-4 turbo stat! All 2.3L worth cranking out 207 hp and 248 lb ft of torque. It weighed roughly 3093 lbs and could haul ass to 60 in a repectable 7.7 seconds. She likes what she sees, But a Cobra R is also for sale in her area.
1993 SVT Cobra R
This car was the Boxy Mustang's last hurrah. It came with a modified 5.0L V-8 and a slew of upgraded chassis components and drive-line bits. This pony had 235 hp with 280 lb ft. It weighed 3255 lbs and hit 60 in a quick 5.7 seconds. It gripped at .85g on the skid and had a top speed of 140 mph. The seller is selling it pretty high, so she looks at one more car.
1985 Mustang GT
What catches her eye is the T-top. Say it out loud, T-tops are and will always be cool. The GT has the venerable 5.0L V-8. It makes 210 hp and 270 lb ft for 1985. 0-60 came at 6.3 seconds with the quarter in 14.9. The owner is selling it cheap as he's moving out of the country, something about a mafia hit being placed on him for snitching.
She clears up the weekend to look for 3rd Gen Camaros. Her dad had one and so there's a nostalgic force at play.
She narrowed down her search to an early Berlinetta, an IROC-Z and an RS.
1990 IROC-Z
The epitome of the 3rd gen Camaro. This car liked to beat some ass and drink Crystal-lite...and it's all out of Crystal-lite. It was named after the International Race of Champions...which actually wasn't very international. This model has the 5 spd 5.0L 305 V-8 engine. It has 230 hp and 300 lb ft of sweet torque. The automatics had the more powerful 5.7L 350 block but it can go screw itself...for now. Your wife is going to persuade you to do an engine swap if she picks this up for you. 0-60 came at 5.7 seconds with the quarter at 14.2 seconds. Its priced at market value, so this car is a strong contender in her eyes.
1985 Camaro Berlinetta
This one has a little rust but otherwise pretty solid. It has a 2.8L V-6 with an automatic. It runs around 135 hp and 165 lb ft of torque. 0-60 is a painful 10.7 seconds with the quarter at 17.9. It idles rough, but the owner is selling it really cheap. Your wife comes to her senses; she doesn't say another word to the owner, gets in her car and drives away as quickly as she can. On to the last car on her list.
1992 Rs
She went out of her way to find a convertible RS. She drives an Mx-5 and just loves the open air. She figures this will be a nice car for you to just cruise around with. It has the optional 5.0L V-8 305 with 170 hp and 255 lb ft of torque. 0-60 came in at 7.6 seconds with the quarter at 15.7 seconds. It's in mint condition and the seller has already received two offers for it.
Now, she's committed to buying one of these cars and has pulled out the money from the bank for it. You don't have a say or even know that she's buying you a car for your birthday, but if you were imparted with this knowledge, which way do you hope she swings?