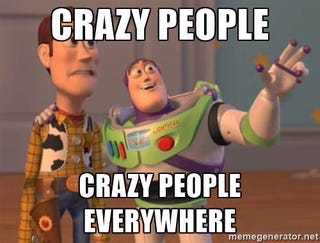 It all started to happen after lunch. We all had them, parts, service and body shop. Must have been over 10 wild insane wackos. I could have sworn they brought a bus load of them from Walmart.
First was a lady with about half her teeth. Last week she called about a key for her newer Camaro and was told we needed title or registration and her drivers license to make a key from the VIN. She shows up and is mad from the start. She says she needs a key and all she has is her license. She says something about somebody having a picture of her with the car to prove its hers. Wow just wow, I knew she was really bonkers at that point. Went through the policy (again) for making keys from VIN and she left after 10 minutes of profanity. I was called an obscenity or maybe about 3 as she retreated, hard to hear as she mumbled much of it. Returns in 5 minutes with a girl friend who I had to go through the same crap with. They finally left. Last worlds were "this is BS"after some more mumbling.
The whole time that was happening I hear other shit going down with body shop writer. He had some guy come in and slap some paper in front of him , then said "I'm here to get my car repaired". The paper was a police report. He was asked if he had an insurance claim, which he was puzzled about. After some discussion it was concluded he was insured but thought the police or dealership would have done all the phone calls for his insurance before he arrived. Took about 10 minutes to convince him we didn't know what insurance he had and he needed to find his policy at home and call an agent. Wow, this guy was really out there. He had no clue. I was in shock as he stood there and asked our guy to call his insurance company. He had no proof of insurance on him and didn't know what company he was with. At least he left calmly.
Within minutes an old guy with spouse brought his car in without an appointment for oil change , check fluids and tire rotation. They just were heading out to Florida from Ohio. The service guys rushed his car to a tech since it was after 3 on a Friday. About 45 minutes later when directed to the cashier the guy went ballistic. He and his wife wanted to talk to a manager. He said that we were ripping him off and hadn't performed the services. After talking to two managers he was shown the fluids, tire pressures, fresh oil on stick, new filter and confirmed tires rotated. He still complained that he HAD TO PAY for the service. They reluctantly gave him a 10% discount and got payment. This wild person was just trying to get something for free, have seen it before.
During that mess we had a few other minor nuts come into parts and to body shop office. Then the last major nut case shows up. Its the grandpa of an employee. He goes up to service and parts counters ranting we had screwed up his SUV. He said a dash switch was broken and there was paint damage when it was serviced. Took about 3 minutes to discover the vehicle had been in bodyshop not service for some repairs. A switch on the dash had broken (somehow?) and a very miniature paint defect that HE failed to have us write on the repair order hadn't been fixed by his own grandson. So he sat in the hatch of the SUV in our aisle until his grandkid could calm him down. I was waiting for him to possibly keel over because the man must be in his 80s and is on oxygen.
I got the hell out of there as soon as I could and left the late crew there to deal with all the other loonies that might show. My only reprieve from all this craziness was just as I was leaving a nice handicapped couple I'd helped two days before came in for parts and were very thankful. Then a couple of Asian Thai immigrants who stumble through broken english translations to get me to assist them in getting transmission lines for a church van. These four people were so appreciative it made my day. Was good to end the day on a positive note. My wife knew something was up when I got home and grabbed the entire bottle of wine from the fridge.
A Camaro picture for your pleasure. Imagine a woman driving it who has half her teeth and looks like she is a drug addict.