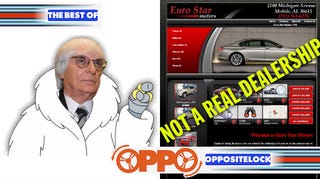 Assembled here are the best Oppositelock posts from Friday through Sunday. Today we've got Red Bull's fuel flow meter, scamming dealerships, a long lost hot hatch and more.
Red Bull and the Fuel Flow Meter – the full story behind the DSQ - FreddsterExprs
If you have been following Motorsport Media, you should recall what happened during the Australian GP weekend. After disastrous testing where the new RB10 was not only unreliable but also off pace, Red Bull managed to strike back. Ricciardo qualified second, only behind Hamilton and his dominant Mercedes, and he crossed the checkered flag in the same position, this time behind Rosberg and his dominant Mercedes. Hamilton and Vettel both had to park their cars after engine problems.
---
Area Man Sniffs Out Fake Car Dealership. High-fives self - OneFastPuertoRican
Let's face it: the Internet is a great tool for buying and comparing car prices and deals. The wealth of information at one's fingertips is astonishing. However, there are also a lot of crooks, bastards, swindlers, con artists, shysters, and sons of bitches out there. This is the story of how I found one such fraud.
---
Long Lost Hot Hatches - Nissan Pulsar VZR N1 - AJTaylor
123.4 bhp per litre from a naturally aspirated engine in 1997. That's one hundred and twenty three point four brake horsepower per litre, the highest output per litre of a naturally aspirated engine until the Honda S2000 came along in 1999. A figure not produced by a screaming Maranello V12 or Zuffenhausen flat 6 but a 1.6 litre 4 cylinder hatchback from Nissan, the Pulsar VZR N1.
---
Why the Sebring Convertible is Great - Jarod Rose
Long live the Chrysler midsize convertibles. For almost two decades Chrysler has been making a convertible based off of it's midsize Sebring/200 platform. In todays world of beige midsize automobiles this is something worth applauding. The convertible is a dying breed. Federal regulations almost killed off the convertible in 1973. Thankfully they did not. However they did manage to kill off a large market of convertibles across the automotive landscape.
---
A Modern Aston Martin DB5: The Speedback GT - Fractal Footwork
In a move to tackle the fresh market that broke ground with the Eagle Speedster, a british businessman named David Brown has introduced a new brand and car inspired by the classically beautiful Aston Marin DB5.
---
The 2015 STI Does Have a Different Chassis than the Impreza, but Not by Much - Boxer_4
I stumbled upon the chassis code of the new 2015 WRX and STi while poking around my local dealer's website, and made an interesting discovery. The 2015 WRX and STi no longer share a related chassis code with the standard Impreza. But first, a little history.
---
US Government Says No Passengers For Electric Planes - ShiftsAndGiggles
Apparently some people feel that the planet needs saving, or we need to limit our dependence on fossil fuels. Regardless or your stance, there are many who believe the answer is electric vehicles. With the growing popularity of Tesla and the government backing of cars like the Chevy Volt and the Fisker Karma, why isn't there more support into the development of electric aircraft as well.
---
Later Models with Noise: Buick Riviera (and Century, for reasons) - noise
Its that time of the week again, the glorious time where I stop writing my thesis proposal (don't tell my PI) and start writing about big cars too new to be old and too old to be new. There's been some talk about Buick lately, and I have to say, not all of it has been great. I love Buick, and that love isn't just for the old stuff, I'd be hard pressed to find a time where I didn't like anything in Buick's lineup (for one reason or another). To that end, I've got a real treat for you: The Buick Riviera, no not the classic from the 60s, the Eighth Generation from the 90s! And to balance out the sleek original coupe, I'll also be talking about The Buick Century. Which is, interestingly, none of those things.
---
The Best of the Rest
NinetyQ shared more photos from the Chicago Auto Show. McMike scanned in photos of his dad restoring a Model A. Saracen test drove a Model S P85+. Quarterlifecrisis went to VIR instead of work. BJohnson11 applied his truck bed liner. Duurtlang bought an e30 touring [my jealousy ensued]. K-Roll documented his first week of Focus ST ownership. Pixel continued welding work on his truck. Santiago Iglesias posted videos of some autocross action and got a race car.
---
As always, If I've missed something and you would like me to include it, let me know.
Discussions
There were several posts that asked questions and sparked some good conversation on Friday through Sunday. Take a peek and chime in on some of those listed below:
Just the #tips
These posts have already been shared with Jalopnik directly but deserve to be mentioned again because they were first posted on Oppositelock:
Want to participate on Oppositelock? Check out the handbook for posting on OppositeLock as well the Oppo tools to help you get started.